A short history, 1901-1965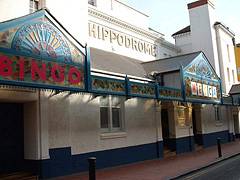 From a private collection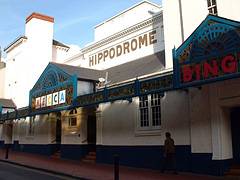 From a private collection
Brighton Hippodrome in Middle Street, started life as Brighton Ice-Rink in 1897. In 1901 the building was enlarged and converted into a circus by the architect Frank Matcham and renamed the Hippodrome. The following year the Hippodrome underwent another conversion, this time into a variety theatre, which opened on 22 December 1902.
Wholesome entertainment
Under the management of Thomas Barrasford, the Hippodrome prospered, becoming the Brighton's principal variety theatre. The policy followed at the Hippodrome was to offer two evening performances of high quality and respectable entertainment at affordable prices. A desire to attract family audiences made respectability and high standards important at the Hippodrome. As the Brighton Herald noted on the opening night "The entire programme was eminently wholesome in tone".
Famous performers
The Hippodrome played host to many famous performers, including actors, comedians, singers and later, pop stars. Perhaps the most famous was the comedian Max Miller, Brighton's own 'Cheeky Chappie', who regularly performed at the Hippodrome between the 1930s and 1950s. The decline of variety, especially in the years after the Second World War, saw the Hippodrome mount more musicals, concerts and one-off performances by celebrities.
In 1964 pop concerts by both the Beatles and the Rolling Stones played to capacity audiences, but this was not enough to save the Hippodrome as a live performance venue. It closed in 1965, becoming the Mecca Bingo Club in 1967, bringing to an end over one hundred years of music hall and variety theatre in Brighton.