Memories of the Christmas pantomimes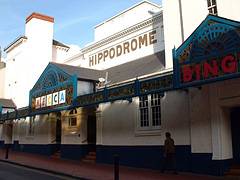 From a private collection
My Grandma used to take us to see the pantomime each Christmas at the Hippodrome. It's now now used for bingo I believe, but you can still see the decorative tiles in the entrance.
I recall the Sleeping Beauty, Cinderella and Peter Pan with Julia Lockwood. I think the star of the Sleeping Beauty, around 1953, was Jimmy Wheeler, an old music hall artiste whose catch phrase was "Aye, Aye, that's your lot!" which he said as he left the stage. What that had to do with the Sleeping Beauty I've yet to work out!
After Peter Pan, we deserted to Babes in the Wood on Ice at the Sports Stadium in West Street. Altogether more thrilling!