Jane appearing in less than her flimsies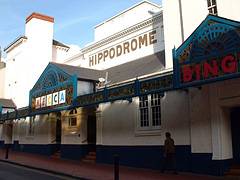 From a private collection
In the 1930s when my father had his week holiday a regular family treat was to go to 'the Hip' as it was known locally. At that time it was a variety theatre and the programme was made up of dancers (tap was all the rage then) singers, speciality acts, comedy turns, musicians, ventriloquists and impersonators to name but a few. At the top of the bill was 'a big name'.
Waiting outside in anticipation
Prior to the doors opening, Middle Street was crowded with the prospective audience waiting to go in. The confectioner and tobacconist on the opposite side of the street did a steady trade. Anticipation grew as the doors to the Foyer were opened. The permanent aroma of cigars wafted out onto the street and there was a rush to the ticket office by those who had not pre-booked their seats to get the better positions. The expensive seating area on the ground floor, occupied by ladies and gentleman in their furs and finery, provided the pre-show entertainment for those of us who entered via a side door with a flight of stairs, to the upper circle, from where we had a bird's-eye view of the comings and goings of the 'toffs' downstairs.
Opulence, colour and decoration
We children sat wide-eyed at the opulence, the colour and decoration. There was a rectangular illuminated box on each side of the stage, which showed the number of the turn as the programme progressed. The orchestra coming into the orchestra pit from beneath the stage and the tuning-up brought childish anticipation to fever pitch. The lights lowered, the orchestra struck up the overture, and the last minute arrivals in the audience heralded the beginning of the show.
Embarrassment at the 'Jane' show
In the 1920s my father heard the great violinist Kreisler play at the Hippodrome. In the 30s my husband saw Tom Mix and in the 40s I saw the Daily Mirror character 'Jane'. I had been taken by a much older cousin who lived in Hanover Crescent (I think it was number 5) and ran it as a guest house. As a guest house proprietor, she received complimentary tickets to town theatres and she occasionally took me as a companion. The 'Jane' show had a nautical theme and in those days of childhood innocence even at the age of 14 or so I was distinctly embarrassed by 'Jane' appearing in less than her flimsies.