The Big Show: David Nixon and Winifred Atwell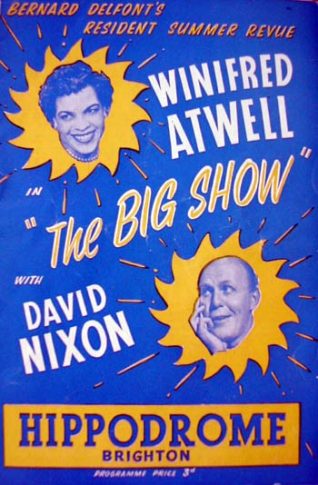 From the private collection of Trevor Chepstow
David Nixon
David Nixon started his career on television in the early '50s performing magic illusions for both adults and children. After the war he had toured the halls and appeared in the famous Fol-de-Rols concert party at Scarborough and in London's West End.
He built all his own tricks at home and had many of his own television series over the years which sometimes included some special TV effects. One such effect was a 'small' lady who stood on his hand and with whom he had conversations.
David Nixon went on to become a major television personality and appeared in 'What's My Line?' One of his later series also introduced Basil Brush to TV for the first time.
Winifred Atwell
Winifred Atwell was an accomplished and versatile pianist who was idolised by the British public throughout the 1950s. She had studied the piano since she had been a small child although she later became trained as a dispenser in the expectation that she would be employed in her father's pharmacist shop.
By the age of 30 she became aware that other local musicians had gained further musical training abroad and, encouraged by this, in 1945 she left for the USA. By the late 1940s she had gained a place at London's Royal Academy of Music with ambitions of becoming a concert pianist. However, in order to finance this initiative she worked during the evenings at London's clubs playing piano rags.
By 1950 her popularity had spread nationally and she began recording with Decca during 1951 which was before the advent of any record sales chart. Her music also worked well on TV where she made regular appearances. She would normally start her act by playing a classical piece on a grand before transferring herself to what she called 'my other piano' which was an old 'honky tonk' upright.
It was on this that she recorded many of her most successful numbers including her two number ones and the now legendary 'Black And White Rag' which has been used as the signature tune of BBC's 'Pot Black' snooker programme for several decades.