Jerry Lee Lewis, Teddy boys and my first girlfiend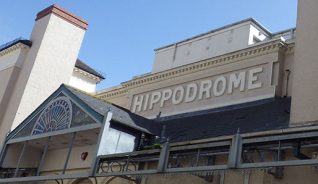 From the private collection of Jennifer Drury
A dark and awful drink
My first girlfriend, Rosalie, had parents who owned a pub in the centre of Brighton. I was welcomed by her parents and after a few weeks, they offered me a drink of something dark and red. It was truly awful. They asked me if I liked it and being young and overly polite, I said that I thought it was lovely. Rosalie's father's response was, 'no one else likes it at all, so -as you like it – you can have some of it every time you come to visit. It turned out to be a type of port. As 16 year old, it wasn't really my thing (and – it seemed, no one else's either).
A chance find
One day, me and Rosalie were wandering around Brighton and happened to go down Middle Street. We stopped outside the Hippodrome and noticed that Jerry Lee Lewis was about to have a concert there. Neither of us knew much about JL Lewis but, on the spur of the moment, decided to go in. 
Did you attend any live shows? Who did you see? Share your memories by posting a comment below
An incredible performance
The Hippodrome was fairly full. To incredible applause and shouting, Jerry came out onto the stage and sat at his grand piano. He started a series of incredible performances. Not only did he sing rock and roll but he 'performed'. He kicked his stool away to give himself more space to hammer at the piano. He jumped on the piano and played the keyboard from his position above it. As someone who played the piano, I tried to imagine how he could play it 'backwards', from above the keys rather than in front of them.
Jiving in the aisles
Suddenly, as Jerry started his big hit, 'Great balls of fire!' the place erupted. Teddy boys and teddy girls started to jive in the aisles between the rows of seats, shouting and screaming. This was true 'dancing in the aisles'. Neither of us had seen this before and it was slightly scarey. A bit later on, me and Rosalie went our separate ways and I was never to see a performance like this again. And never again had to drink that port.