Tommy Trinder appearing c1950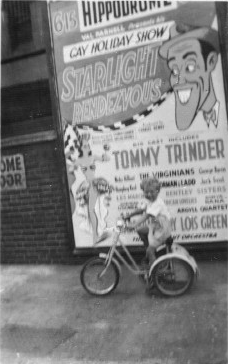 From the private collection of Lyndsey Lee
I was most interested to read the section about the Hippodrome.
Searching through my collection, I found a small photo of me by the stage door in about 1950 or 1951.
My father was appearing at the theatre as accompanist to Tommy Trinder – who I knew as 'Uncle Tommy'. My mother was in the show as part of the Tiller Girls troupe.
I hope this venue endures to see live performance once again.