Brighton Gas and Coal Co.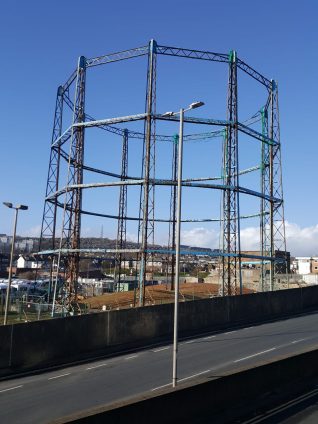 Who Remembers Coal Gas?
Who remembers when dear old mum cooked using coal gas?  When I moved to Hangleton as a 3 year old in 1957, my mum had an old cast iron cooker installed.  It was second hand, or perhaps even third, with a grey enamel finish, and of course no pilot light or automatic ignition.  Some people had one of those big battery lighters that produced a spark to get the ring going, but we had to use a match.  Who also remembers when someone had forgotten to light the ring and the smell of coal gas, and the worry that switching a light on might cause an explosion?  "Quick open all the windows, don't put the lights on!"  Who also remembers gas pokers, you plunged it into the coal and left it there for 5 minutes to get the coal burning?  Who also remembers the huge gasometers which rose and fell according to demand?
Brighton Gas and Coal Co.
The gasometers at Black Rock came about due to taxation.  Brighton Gas and Coal Co. works were established at Black Rock in 1818, just outside the town boundary in order to avoid tax dues.  Coal was landed from vessels on the shore and either hauled up the cliff or apparently carted through a cave* that lead from the shore to the works.  The site was used for production and storage until 1860, and from then for storage only.  The gas holders were improved and replaced a number of times.  The two gasometers that remain there today were constructed in 1935 and 1946; however they are no longer in use.  There is a plan to redevelop the Black Rock site and you can read about it here .
Natural Gas Conversion Programme
Finally who remembers the natural gas conversion programme?  Apparently it was between 1968 and 1976; gas engineers visited every home and converted equipment to work correctly on North Sea gas.  I think my mum's house in Amberley Drive was converted very early 1970's. As a 16 year old I remember being quite embarrassed as the engineer looked at mums cooker and said to his mate "blimey Jim this one's out of the ark, doubt we'll have the parts for it;" but luckily they did!  My mum was still living in the house in 1991 when I went back to rip out the old kitchen and install a fitted one.  The butler sink and wooden draining board came out quite easy, but I had to call on three mates to help me lift out the heavy old gas cooker!
* Page 15 of my 1929 book "Brighton Since the Grant of the Charter 1854 – 1929" by W. H. Attwick