A certain beauty about her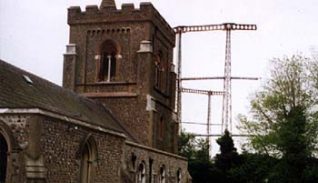 Round about the mid nineteenth century a gas holder was built close to St Andrews Church, Hove. It was immense and completely overshadowed the church. Obviously in those days objections by the public to planning permission were not given the same importance.
Often on Boxing morning we would walk past with the kids and marvel at the amount of gas used to cook Xmas dinners. The holder let herself down but never us.
With the coming of natural gas the holder went out of use. She stood forlorn, unwanted and unpainted for at least 30 years. I always thought she had a certain beauty about her.
Her final despair must have been that, of all the people that jump up to object at planning stage for any piddling reasons – nobody, just nobody, loved an old but very elegant public friend enough to make even a token protest.
I am no better, I hope she forgave my betrayal.