Jaconellis - the place to be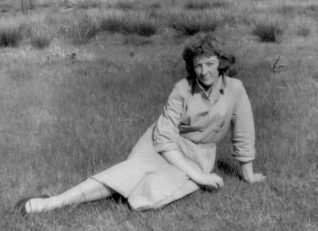 From the private collection of Joan Cumbers
In the 1950's Tony and Mena Jaconelli ran a milk bar, which during the evenings became a popular teenage haunt. It was happy place, where you could buy espresso coffee, listen to the juke box and chat with your friends. At the time it was regarded by many, as the best coffee bar in town.  
See and be seen
'Jaconellis' was on the corner of the seafront and Ship Street, not far from Pool Valley and the Steine. It was an ideal place to meet with your friends if going on to another venue. If you had arranged to meet up with friends, big café windows meant you could see and be seen.
A 'must have' fashion item
Dressed in our drainpipe trousers and ballerina shoes, or tight skirts and stiletto heeled shoes, we girls posed on the high stools, holding our long umbrellas and vanity cases. A vanity case was a 'must have' fashion item which had a handle on top, and was used instead of a handbag. Their bulky shape made rendered them most useful in keeping a persistent boy at bay when in a tight corner! 
A special meeting place
My friends and I spent many evenings in Jaconellis, listening to Elvis, Buddy Holly, Gene Vincent, Little Richard and a particular favourite of mine, Sandy Nelson playing 'Let there be drums'.  It holds very special memories for me, as it was there I met my husband 50 years ago. He had come down to the coast for the day. The rest as they say is history.