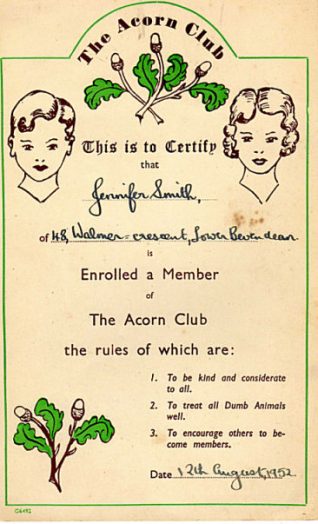 From the private collection of Jennifer Tonks nee Smith
My memory is hazy
I was a member of The Acorn Club in the 1950s, but my memory of it is quite hazy around the details. I think it was a club for kids run by the Brighton and Hove Gazette. But I really can't remember a great deal more about it.
Letter from 'Auntie Joan'
The main person in the club was 'Auntie Joan'. I have a letter from her saying 'Thank You' for my contribution of silver paper to a collection the club was making. It seems to me that this was a bit like the things 'Blue Peter' used to do.
Were you a member?
I would love to hear from anyone else who remembers The Acorn Club or was a member. Can you remember any other activities? If you can shed some light on the club and what they did, please leave a comment below.