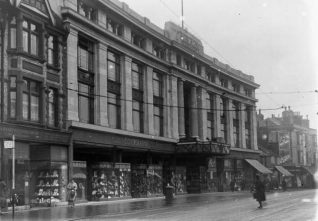 From a private collection
My maternal grandmother's favourite shopping street was London Road, and most of it was a rich and inviting experience for a young boy. The Co-op Department Store was without doubt the best as it had a wonderful cash transit system. Each sales desk was connected to what would best be described as a mini cable-car system.
An interesting aerial display
The sales staff would fill a pod with the cash and the handwritten receipt and attach the pod to the aerial trackway by means of a connecting clip. A wooden handle on the end of a lever would then be pulled and the pod would whizz away at what seemed like lightning speed, crossing little junctions until it disappeared into the distance. After a few minutes the pod would come flying back and miraculously return to the same sales desk! The member of staff would then unclip the pod and inside was any change due along with the receipt which had been rubber stamped. My poor grandmother was even dragged into the Co-op when she didn't want to shop there, just so my brother and I could watch the aerial display with awe.
Broken biscuits from Woolworths
Woolworths was another interesting store as it had a wooden floor (very creaky) and the shop reeked of parafin wax and the sickly smell of sweets. I would beg my grandmother to buy me a shilling's worth (5p) of broken biscuits which I would invariably consume in Marks and Spencer's, a store that my brother and I hated as it sold only clothes in those days, which was boring to two lively lads.
Saturdays in St. James's Street
My paternal grandmother shopped in St. James's Street every Saturday. She had lived in that neighbourhood as a child, as had her father, grandfather and great-grandfather. The community spirit there was wonderful and I lingered many a long while in Cramphorn's pet shop looking at the exotic birds and furry hamsters and suchlike. We always visited Sainsbury's and it seems remarkable to think of Sainsbury's as we now know it to what it was like nearly 50 years ago. It was two rows of curved glass display cabinets with grey marble counters and their main stock-in-trade was bacon, which was usually sliced in front of you, cheese and cooked meats. A lot of people had no fridges at home so they had to shop often for perishable foods, such as cheese and meat.
Sainsbury's had two shops joined together and in the other shop they sold tinned and dry goods. The vast emporia of today are far removed from the small outlets of yesteryear. I think I preferred what we had then, I'm afraid.