Reminiscences of a photographer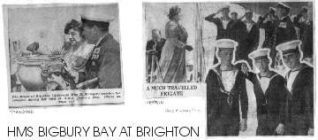 Photo supplied by Arthur Loosley, Brighton and Hove Herald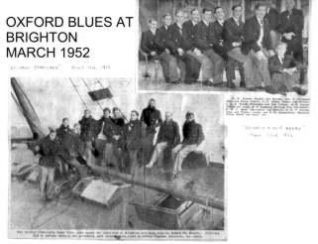 Photo supplied by Arthur Loosley, Brighton and Hove Herald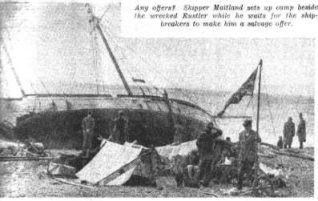 Photo supplied by Arthur Loosley, Brighton and Hove Herald
I have many memories of Brighton, where I lived from the late war years until the early 1950s, and remember a number of events and adventures connected, perhaps not surprisingly, with the sea. I never saw the amazing 'Daddy Longlegs' railway which, of course, was long before my time, but can imagine that it must have appeared to be walking on water, on its own sea legs, and that thought leads me to recall some personal reminiscences:
Finding your sea legs
There were plenty of opportunities in those days for landlubbers to find their sea-legs, including the passenger steamers operating from both piers, and I remember some pleasant trips to the Isle of Wight at what must have been very reasonable prices because I was not earning very much at the time. I did, however, as a junior photographer for the Brighton and Hove Herald, have the privilege of a number of trips on other craft, the most memorable of which was the replica Viking ship, the Hugin, built in 1949 for the Kirk Douglas film, The Vikings. It visited Brighton before being laid up at Pegwell Bay, Kent, where it has now spent more than 50 years as a visitor attraction. The Thanet Council website, http://www.thanet.gov.uk/ reported on December 8, 2004, that after steady deterioration over the years, the ship was to be taken away that day for repairs costing £243,000, and is expected to be back on show in the summer of 2005.
Brighton and Hove Albion
I remember an occasion when members of the Brighton and Hove Albion football team were invited to row the Hugin between the two piers, and I went along for the ride. It was a beautiful calm day but a sudden squall made some of the rowers unwell, which I found slightly amusing, and was surprised a couple of days later when my grandfather, who had a retirement job as deck-chair attendant on the West Pier, told me what he had observed from his vantage point. Unaware that I had been on board, he decribed the plight of a flimsy wooden boat at the mercy of the elements, in danger of being smashed against the pier. I don't recall it quite like that, but Grandad was an ex-seaman, not usually given to gross exaggeration, so there was possibly an element of truth in it.
The Rustler
Other vessels were less fortunate, such as 'Rustler', a wooden boat (or is it ship? I'm not sure where the distinction lies) owned by a family with dreams of sailing away to a new life in a distant land, who ended their voyage washed up on Brighton beach. I have a cutting from the Herald which shows them camping by their stricken vessel, waiting for the salvage men to make them an offer, and another of the Oxford Boat Race crew posing on board the wreck during a weeked visit when they stayed, I believe, at the Metropole and were persuaded to cross the road for what, nowadays, would be called a 'photo opportunity'.
Royal Navy Frigate
My final 'sea-legs' memory is of a visit to the Royal Navy frigate HMS Bigbury Bay, which I boarded during a mayoral visit when it was anchored between the piers on one of the navy's goodwill visits which were so popular in the post-war years. After the obligatory speeches and exchange of token gifts, the mayor was taken ashore in the ship's boat (oh yes – that's the difference – 'a ship can carry a boat but a boat can't carry a ship') and I was left on board, together with an Evening Argus photographer, to await its return to collect us. It was in the ward room of the Bigbury Bay that I was introduced to pink gin. We had time for another while waiting fot the boat's return . . . and another when it was delayed. Finally, after further delays, we found ourselves in mellow mood, sitting comfortably on board the small vessel, bound for terra firma. The sea seemed exceptionally calm, so much so that it looked as if we might as easily walk on it, and my companion stood up and announced his intention of doing so and had to be physically restrained. That would have taken 'Walking on Water' just a little too far.
Pleasant memories, half a century old, but brought to the surface again, thanks to the discovery of this wonderful website. If anyone remembers me from those days I would love to hear from them either here or via my personal website, www.worduser.net
(c) 2005, Arthur Loosley
Please excuse the poor quality of these reproductions from my scrapbook, more than 50 years old. Can anyone please help me to locate any of the originals or similar photographs of the events recalled here?