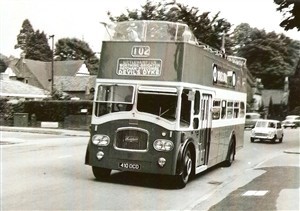 From the private collection of Martin Nimmo
Green and cream buses
In the 1950s and early 1960s, a row of green and cream, single decker Southdown coaches parked along the pier end of Madeira Drive. A chalkboard next to each coach indicated where the coach would take you. For example, you could be driven to the Devil's Dyke and back, or to Beachy Head and back. Most interesting, for me as a child, were the ones that offered you a 'Mystery Tour'.
Where did it go?
As a very young child, I thought that the blinds were pulled down over the windows so that you could not see where you were going. I slowly realised that this was not the case. My elder sister book us both onto a mystery tour bus. It took us out into the country and eventually stopped at a cafe, where we were all dropped off for a cup of tea or a Coke. We were then driven back. Part of the mystery was a) where we went and b) where we were when we got there.
Did you ever go on a tour? Please share your memories by posting a comment below
Excitement of a drive out
A year or so later, we went on another mystery tour. I think it probably took another route but we still ended up at the same cafe. Perhaps mystery tours were the biggest source of income for this particular cafe. All in all, though, we loved these drives. This was in the days when fairly few had cars. I can remember the first car in our street, and how excited I was when me and the owner's daughter were invited to 'go out for a drive'. As with the Southdown buses, the aim was not the destination but the ride, itself.