Billy Smart's Circus on The Level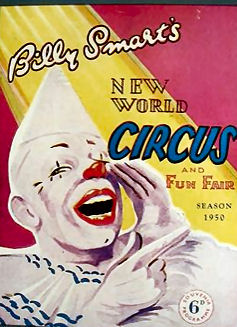 From the private collection of Jennifer Drury
Fascination of the Big Top
In the mid to late 1950s, there was a regular visit from Billy Smart's Circus. Its Big Top was sited on the grassy part of The Level and it was surrounded by the circus' trailers. An immediate thrill was watching the Big Top going up; a huge tent that was pegged out just as a camp tent would be. For some reason, the electric generators used for lighting the tent, also fascinated me. I wondered what it would be like to live in a trailer and to have no permanent home. 
Fear of falling
My favourite acts were the high wire walkers and the trapeze artists. Both worked high above the centre of the tent and thrilled everyone. I wasn't too impressed by the Circus Master, who seemed a bit too bossy – my being blind to that being the point of him. We sat in tiered rows of wooden benches and you could see the grass underneath. Along with the common fear of falling through the wooden slats on the Palace Pier, we had a fear of falling underneath the wooden benches. The inside of the tent had a very distinctive smell – perhaps of straw and horses. 
Did you see Billy Smart's Circus? Please share your memories by posting below
The scary clowns
I really didn't like clowns and wondered if anyone ever did. I thought them silly and slightly scary and hoped they wouldn't come too close to me. Unfortunately, there were still some performing animals being used. Times have changed and I am not sure how I felt about the acts that took place, at the time. I hope I did not like them but I probably did. Hindsight is a wonderful thing but it is a relief that animals are no longer used, in this way, in this country.
The question remains with me…did anyone like clowns?