Childhood memories of 1950s smallpox outbreak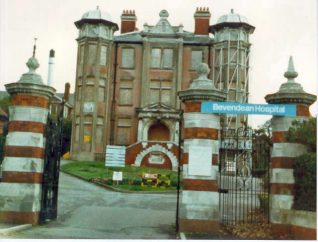 From a private collection
Between the years 1950/51, Brighton was affected by an outbreak of smallpox. The exact date of when the smallpox was first acknowledged I cannot be certain, no doubt it will be in some archive, somewhere.
A big black cross
I was not aware of this outbreak until we visited our grandparent's house, at No 12 Islingworth Road, for Sunday lunch. As children, this venture to our grandparents was something we always looked forward too, lots of nice treats and always a comic and sweets when we left. This particular Sunday we arrived, only to find the door locked and there was a big black cross, painted on the door.
The house in quarantine
My Aunt Alice called out to us from the letterbox. The house was in quarantine due to an outbreak of smallpox. We had to stay away for at least a month, or when we were told it was safe to return. This was the first we new about it, and were told that Brighton was affectedly isolated from the rest of the country. I think that only foodstuff and restricted merchandise was allowed into Brighton, nothing was allowed out until the outbreak had been contained.
A seaman carried the disease
I found out later that a ship had docked at Shoreham in the December 1950, and on board was a seaman who, unbeknown to himself, had contracted smallpox. The seaman travelled to lodgings in Brighton, where he fell ill and was rushed to hospital, eventually to be taken to the Bevendean Isolation Hospital. The landlady of his lodgings took the sheets off his bed and sent them to the laundry in Cobden Road, where my Aunt Alice worked.
Small pockets of panic
The outbreak of smallpox that ensued was soon traced back to this seaman, and everybody that had contact with this man was quarantined. All mass meetings were cancelled and as the disease could be spread by simple means, the handling of money became suspect. banks, post offices, building societies and other financial organisations were generally avoided. Although daily life continued, small pockets of panic did erupt; I do know our corner shop only allowed credit to the trust worthiest customers, my mother being one of them. These shops were only open for essentials for a few hours a day.
Queuing for vaccination
We all had to be vaccinated, which meant queuing for hours outside the Carlton Hill clinic. After the vaccination, I remember we had to wait for a scab to form about the injected area. If a scab formed, the bigger it was the better; so as to be sure that the vaccination was successful. St Luke's school was closed for sterilisation and fumigation. It appeared that a shopkeeper in Downs Terrace had served a customer, who, as it was soon to be discovered, had smallpox. I think the shopkeeper then caught the pox; however, he had a daughter (possibly granddaughter) that attended our school.
Eventually back at school
When we were eventually allowed back into school, I can still remember the smell inside the school building, a sort of damp dough smell, similar to bread during baking. The smell of dough lingered for weeks after the school re-opened. I don't think the actual outbreak of smallpox really meant anything to us children. We were told that this was one of the most deadly of diseases know to man, so we knew that it was serious, but what did that mean to a young child. We all had a sore arm (the injection mark scarred us for life) and we could not go out to play, but best of all our school was closed. I do not know how long the Brighton was quarantined for, but I do know that 30 people were affected and about 10 people died.
A survivor of the outbreak
Two years ago, I received correspondence from a very nice lady, whose brother was only one year old when he contracted the virus. He was so ill that the parents were advised to get him christened, as he would probably not survive. Luckily, he did survive and is now a grown man, married with three children. This poor boy was badly disfigured, and I understand that after the outbreak, when his mother went shopping with him, people would make disparaging remarks. On one occasion his mother was asked to leave a shoe shop, as his looks were disturbing the other customers who feared that they would catch something from him.
Further information available
If anyone would like to read a more detailed account of this boy, affected by the smallpox virus, then go to The Argus Archive, February 18th, 2004; then search 'Baby who survived smallpox'.  It should be recognised that, but for the prompt action of the Department of Health and the medical professionals, that the outbreak was swiftly contained and did not spread to other regions of Sussex