The dustman, coalman and rag and bone man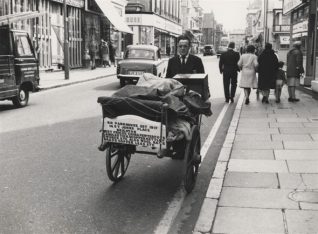 Royal Pavilion and Museums Brighton and Hove
Difficult access
In the 1950s we lived in Belton Road, in the Roundhill Area. There were two regular visitors to the house; the dustman and the coalman. Belton road was made up of small, terraced houses. There was no access to the gardens, behind and the pavement, in front, was fairly narrow, so access was difficult.
Dustman and coalman
Both the dustman and the coalman would knock on the door and then walk through the house, to the garden. The dustman would pick up the large bin, hoist it on to this shoulder and carry it, back, through the house, to his lorry. The coalman did the same, but in reverse. He would load himself up with a sack of coal and then make several trips, through the house, to the coal bunker – something my father had built.
An odd practise
Today it seems odd to think of these men walking through the house but, clearly, it was common practice then. Some householders also had 'pig bins', small, metal bins with a 'locking' cover that kept birds and small animals from getting in. The pig bin was for leftover vegetable matter. Why some houses had them and not others, I do not know.
Rag and bone man 
The final visitor, to the road and not to the house, was the rag and bone man, who drove around the streets with his cry of 'any old rags, any old lumber?'  As a child, I used to wonder what 'lumber' was. I am not sure I know what it is, today.  The other distinguishing feature of the rag and bone man was that he rode around on a horse and cart. He must have been one of the last tradesman to do this. When the horse and cart finally went, so did the rag and bone man.