Memories of 1950s Brighton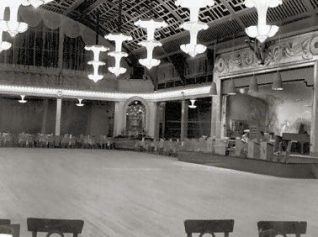 From a private collection
Closing time
The only difference, in my opinion, between the nightlife of Brighton in the 50s compared to today, are the closing times of pubs etc. The pubs shut at 10.30pm, most of the cinemas finished about that time and the coffee bars closed before 11pm.
Coffee bars
There was an abundance of coffee bars. There was Paisley's in North Street, a beatnik coffee bar (pre-hippie) opposite Ship Street above the snooker hall, the Milk Bar and the Caribbean in Queens Road, the Mogambo in West Street and the famous Whisky-A-Go-Go with the Blue Gardenia Club above it. I could name loads more but my favourite was my friend's gran's café called Ma's at the corner of Frederick Gardens. We could stay there a bit longer and if you were broke, have things on tick. It was great in there.
SS Sport Centre and ice rink
Although we didn't have nightclubs as they do today, we had places that the present day youngster would envy. For a start we had the S.S. Sport Centre in West Street. This was a great place. There was a huge ice rink where, on Sundays, the Brighton Tigers Ice Hockey Team played. You had wrestling with all the big names of that time: Davie Garfield, Masked Zebra Kid, Less Kellett, Johnny Kwango and many others. If you wanted coffee you had the Paris Lounge, and if you wanted alcohol you had the Long Bar upstairs which had live music as well as a jukebox. All the big Tim Arnold Ice Circuses were shown there and pantomimes on ice.
The Ritz roller rink
Just up the road you had the Ritz roller rink, a huge indoor roller skating rink. Thursday night was cabaret night and cost 2s 6d (12 1/2p) and was a brilliant night out. At the end of the evening everyone used to link waists and formed what we called the snake. As the front slued round, the rear went so fast you smashed against the wall and bad luck!
Regent Ballroom
Up further at the corner of Queens Road and North Street was the magnificent Regent Ballroom. It was the scene of many happy days for my friends and I. Big bands, big beats and plenty of partners! Downstairs you had the cinema and even further lower in the building you had the Galleon Bar. This was a big bar which looked like the inside of a ship and when there was a long film in the cinema they'd open the folding doors and let you in for a drink during the interview. You got back in the cinema by showing your ticket.