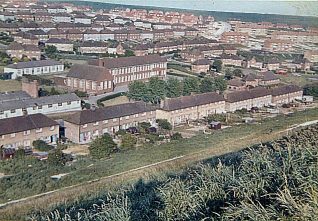 From the private collection of Richard Shaw; click to open large version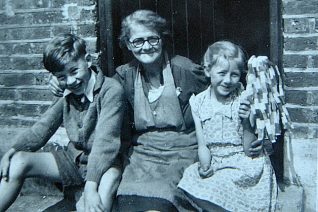 From the private collection of Richard Shaw; click to open large version
Remembering the neighbours
My home was at 126 Whitehawk Road where I lived with my grandmother and her son and two daughters: Lionel, Jean and Joan. I spent a very happy childhood at Whitehawk and have some very fond memories of those days. This thread was started by Colin Chitty who lived just a few doors away from me and I was sad to learn that Colin had died recently. I remember the Morrel family at 122; the children were Linda, Sandra and Tony. The Kirby family were next door to them where the children were all girls and included Betty, Winnie, Irene and Brenda. Then the Gunn family next where there was a girl called Deanna.
Lived opposite the school
The Hobdens were at 125 next to us ,and the sons were Bobby and Jeffery, then the Fairhalls at 127 with brother and sister Raymond and Maureen.  I believe the  Dorringtons were at 128. The Greens were at 129 and then the Chitty family at 130 where Colin lived with his brothers and sisters: Terry, Janice, Dennis, Stan and I believe Derek and June. The Steynings were a little further up the road with their son Dennis. I went to Whitehawk Junior School and our house was immediately opposite the school gates but this did not stop me from being late for school on several occasions.
Do you have Whitehawk memories to share? Please post a comment below
Place of my childhood has gone
I recently returned to Whitehawk and met up with some old friends; I was amazed to find them still living at the same address. Terry had become a keen gardener and their garden's front and back look absolutely wonderful. Most of the back gardens that used to be planted out with vegetables and flowers are now full of outbuildings and sheds and all manner of paraphernalia, while the front gardens are now mainly given over to parking cars, motorbikes and caravans. Sadly the place has changed a lot, and the Whitehawk of my childhood has gone