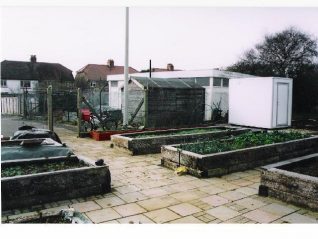 Peter Richards tells us about the allotment plot for people with disabilities at Weald Avenue:
"The idea came from a movement called 'Allotments for All' and I think we were inspired by the disabled site at Coldean Lane, which was built almost entirely by one man, Mr Gerry Nevill. Some of the funding came from a grant from South Coast Power – owners of Shoreham Power Station – and some from Awards For All, which is part of the Lottery Fund. Our treasurer, Mrs Margaret Emery, raised further additional funds.
Peter on the transformation of the plot
"We started off with an abandoned allotment that had not been used for some time and was very rough. We removed tons of rubbish and then constructed five raised beds. These consisted of railway sleepers pinned through to the ground with steel bars. When the beds were completed we paved the whole area so that it would be easy for wheelchair users. We chose a site next to the car park which meant disabled people could bring their vehicles right next to the site. We also installed a disabled toilet with a ramp. My fellow volunteers and I are now constructing phase two of the project. This will consist of slightly raised beds – larger than the originals – and surrounded completely by paving stones.
So what's been happening on the plot this season?
"All five raised beds have been in full use throughout the summer which is very gratifying to us volunteers that built the site. A variety of crops have been grown successfully: potatoes, tomatoes, other salad crops, leeks, beans – runner and dwarf. One lady picked the last of her runners only a couple of weeks ago [interview conducted in November], another lady has grown a crop of sweet peppers, which is unusual for outside. One of the many advantages of cultivation in a raised bed is that crops can be grown much closer together. In fact, it's quite a concentrated form of horticulture. The people on site do not waste an inch of ground, and as soon as one crop is finished, another is sown, or plantlets started elsewhere are put in. One of the tenants has had to give up as the taxi fare was too much to allow him to get to the site as often as he would like. He was a Normandy veteran; in spite of having great difficulty in getting around he was always cheerful and had lots of stories. He will be missed."
If you are interested in taking on one of the available plots, or just finding out more about the project you can contact Peter Richards on 01273 420482.