Moulsecoomb Forest Garden and Wildlife Project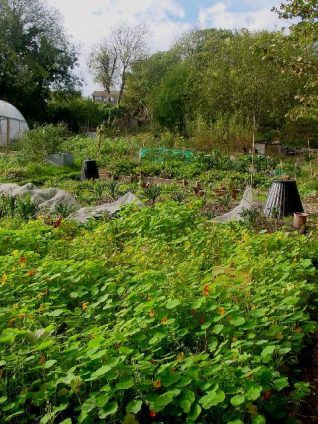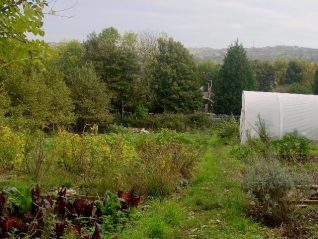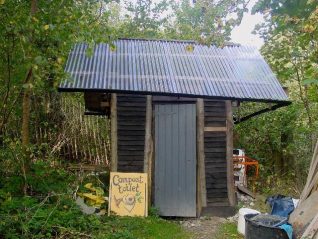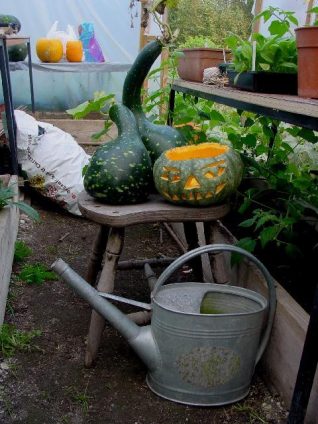 Warren Carter established and co-ordinates the Moulsecoomb Forest Garden and Wildlife Project. The project is based at the Moulsecoomb Place site. Warren tells us about the site, and the origins and the development of the Forest Garden and community food project.
A glimpse of allotments past
"Well, these allotments were part of a bigger allotment site which covered the whole of [what] is now the Hollingdean estate. One of our volunteers came to an open day, and all these memories started flooding back. She was telling us how her Dad had an allotment on the site, which is now houses. Sheila [is] the four-year old in the pictures you'll see on the website, working with her Dad on the allotment. I felt there was a history there of ordinary people that could be lost. I put an ad in the Argus, and got inundated with phone calls, and wrote a book called 'Seedy Business'. It's a little book that you can get in the library and you can see it on the website. What I was trying to do was link the past with the present. During the Second World War, people composted, there was pig-bins on all the street corners, people recycled; stuff we're told to do now is nothing new or fancy, it's the way people lived sixty years ago.
The origins of the project
"I moved to Brighton about eleven years ago. I was a self-employed gardener in my home town of Slough. When I come to the town I wanted to carry on growing food. I got a list of different allotment sites from the Council and just cycled around. I stuck my head over the fence at this one, and it was half-derelict, but I just thought it was perfect. There was something nice and secretive about it. So, we took one plot on, and it was basically a group of friends that were involved in the court house squat against the Criminal Justice Bill, so it was around '94. I met people that were interested in gardening. We took on another plot, and another one, and eventually over time we had an open day. Sixty local residents come and had a nose around. We gave the project a name and we started doing our regular work days. Now we do three regular work days a week.
A forest garden in Moulsecoomb
"There's a guy called Robert Hart who had the idea. Basically, there's three layers of a forest naturally, and what you do is mimic that: you have tall trees, then shrub bushes, then perennial crops that come up. So, we've got cherry trees, and mulberry and a pear, and then underneath lots of fruit bushes, and under that they'll be herbs like mint, and rosemary and lavender. It looks lovely, but it's very hard to net all our fruit; we lose a lot of it to the blackbirds. I think it's an idea that works in temperate zones; I don't think it works so much in our climate. We've got three allotments that are traditional organic garden, with neat rows and no weeds. When children come up here they'll go around the site with bowls and collect fruit, if the blackbirds haven't had it. The sort of magical thing of the Forest Garden works.
"It's a small site on quite a steep slope. There's ten allotments here, we've got eight of them. It's nestled in the foot Deadman Woods directly behind Moulsecoomb [railway] station. It's on the edge of the Hollingdean estate, near the Bates and Moulsecoomb estates. It's right on the edge of the Downs and could become part of the South Downs' National Park. It's not like your normal allotment site – too many allotment sites look to me like shanty towns. We've got rid of all the bits of corrugated iron, and we've planted up hedgerows. We've planted spring bulbs. We've got a fire pit area, children's area, a big shed, a compost toilet. We've got living willow. It's quite an unusual allotment site, but luckily the other two allotment holders are quite happy with what we are doing.
What's growing like?
"It's surrounded by trees, so it's so much warmer. Hardly get any wind damage. It's a very hot site basically, absolutely baking in the summer, for a few hours a day you can't work in it, so we've got sunbathing areas, a hammock up so you can read a book. It's good for suntans. The disadvantage is blight arrives here very early. The soil is chalk, not very deep. This site [has] been organic for eleven years, and the other allotment holders are organic. So we've been adding manure and compost and mulching. We put terracing on the higher bits because of the soil erosion when it pours with rain.
Outlawed vegetables?
"The outlawed vegetable plot is where we grow seeds which aren't commercially available any more. There's a thing called the National Seed List and if the seed is not put on the National Seed List or is de-listed it becomes illegal to sell those seeds. We've lost ninety per cent of all of our vegetable varieties in the last hundred years. There might be something in a French bean that might be useful medicinally, or in the future to fight off French bean diseases. We're members of the Heritage Seed Library and every year you pay a fee and you get sent a catalogue and you chose the seeds you want to grow, and they send them to you for free, sort of loan them, and get around the regulations that way. We're involved in Seedy Sunday [see information below], a community seed swap that has been happening in Brighton for the last five years. Again it's one of those ideas, gardeners have always swapped seeds. One of the reasons I garden is political: I hate supermarkets; I hate the way that food has become a commodity; I hate the fact that the seed companies are run by big Biotech companies. So, the idea of Seedy Sunday is if we can not give them our money and sort of swap seeds it wrestles a bit of control back from these big corporations.
We grow apples in England
"I think [it] is really important that food is locally produced. From our site you can see the South Downs, and they just look like a giant lawnmower's taken every tree and hedgerow away. And really the Downs could be used for small holdings and be growing food for Brighton's consumption. We grow apples in England; we should be eating English apples. We shouldn't be importing them and causing climate change and killing all our different varieties off. We've planted an orchard in Moulsecoomb Primary of twenty different trees, and we tried to source all Sussex varieties. One of my favourites was Crawley Beauty. The words Crawley and beauty aren't used together very much, but there is an apple tree called that.
Growing hearts and minds
"We put on lots of different events. We've got a Halloween party tomorrow – where they'll be storytelling and baked potatoes. We do herb walks: we have a herbalist going round the site showing people all the different herbs you can use for different ailments. This year she made up some elderflower cordial with the elderflowers we collect here. We do bug hunts, archaeology walks, mushroom hunts and concerts. We've got a wildlife pond, which we managed to get sixty newts out of in one kid's pond-dipping event. Sixty different varieties of birds have been spotted here or heard, we have a birdsong evening in April. We planted a hedgerow down the bottom. Thrushes, for the first time, nested in that hedgerow and they will have been killing all the slugs and snails for us. It's a real wildlife haven. We try and accommodate the wildlife, as much as the children and the adults that come up here, and make safe spaces for them where no one else can get.
"Then, we also work with local schools. We help run their environment clubs. Moulsecoomb Primary environment club has been going quite a few years. We helped plant an orchard with a story-telling area, mini-woodland, hedgerow, wildlife pond, there's raised beds where the kids get to grow food. This term they planted some garlic. They'll harvest the garlic and make garlic bread out of it. When they start back this term we'll be doing compost quizzes – what can you compost, what can't you. The other thing that we're working really closely with is ACE, which is basically a school for excluded kids, or kids that can't get on in the mainstream curriculum. They've got half a plot here. The transformation of some of those kids is absolutely amazing. Maybe they're not bright academically, but they're certainly bright working with their hands. We'll show the kids and the adults how you coppice; we'll tell them why you coppice; and, then we'll be making coppice fencing with it round the site. They're learning stuff with their hands and I really think it brings the best out in those kids.
"When we have gluts, we won't sell that. Our volunteers will take them and give the spare vegetables to people who live in Moulsecoomb and the Bates, who maybe can't afford to buy organic. That's still a very important part of it, but the educational bit is really rewarding. One thing I find around here is that vandalism on this site is almost negligible, and yet we probably have some of the worst kids round here on the site: they know where our tools are, they could smash the place up and that, and yet they don't. It's their community food project, it's their community garden as much as anyone else's."
For more information go to: www.seedybusiness.org.
If you are interested in volunteering the regular workdays are Tuesdays, Fridays and Sundays. You can contact Warren Carter on 01273 707656 or email info@seedybusiness.org. Volunteering may be ideal if you feel you can not take on a whole plot yourself. No gardening skills necessary – all ranges of skill and ability welcome.