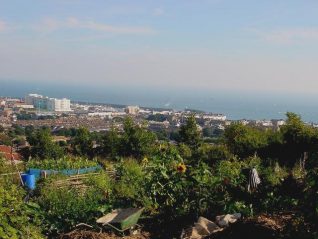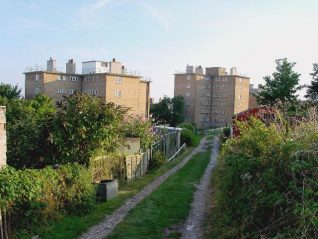 Craven Vale allotment site is located on Whitehawk hill, to the north of the Royal Sussex County Hospital and west of the Whitehawk housing estate. It is on an east-facing slope with views over Brighton Marina, and out to the Channel. The entrance to the site is on Beresford Road. The City Council lists 78 plots at this site.
Valerie Judd talks about the local climate
"The seasons are all up the creek at the moment. I mean, this year we've all seen how poor things have grown, or some things haven't grown properly because of the lack of rain at the right times. We're having what they call an Indian summer now, and there's no rain which means we can't use a hose to really soak the ground, and that doesn't do much good anyway. It's the rain that we need. Last year we had two terrible gales: one was sort of salt and it burnt everything; and the other one came from the opposite direction and it blew everything flat. You can actually notice the seasons all changing. We're all having to start to plant earlier to catch that weather, because it's not so cold in the beginning of the year.
Val on Craven Vale's soil conditions
"The soil is very alkaline. It's full of chalk, and as for top soil there isn't a lot. I mean you either to have to raise your beds or add to them to get the depth and I've been on my allotment three years now and I'm still sieving chalk. It's a fighting battle really to get the depth and the quality into the soil. When I got this plot, I put a fork in it to see how deep the ground was and I barely had a fork deep in it all over, so I've had to add a lot to it: bags of top soil, horse's manure, compost. It's on a slope, so I've had to step it to stop it all washing down, but if you prepare your soil first, for what you're going to grow there, it's not too bad. But carrots, they just don't like alkaline soil – waste of time unless you grow them in containers.
Val on the troubles of Craven Vale
"We have a road that backs on to the allotments and the children come over the fences into the allotments and think it's fun to smash windows, pull your veggies up, or just break in to your sheds, or even burn 'em down. We haven't got a gate at all – on the Manor Hill end towards the Race Hill – anybody and everybody walks in there. We see a lot of push bikes; children from school taking a short-cut, to get out they go underneath the gates or over the fences; I've found people lying around either stoned out of their brains, or drunk – you just go the other way; people have had their sheds broken into and people sleeping in them. I've been broken in to six times in three years.
"You have to make sure that things are fastened down. I've had the police visit me twice on the matter and they've told me to spray all my tools with very bright colours – metallic reds and oranges – so they can be identified. When you approach the [Council Officials]: "there's not enough money in the kitty" or "oh you're one of the best allotments". I think to myself, if we're one of the best the rest must be really bad. When you go past Tenantry Down the fences are all mended, some of them have got barbed wire round them. I think this could be, like many of the other allotments sites, a lovely place to work and be, if only the Council would pay a little bit more attention to our needs and put a bit of money into it.
Some fresh ideas
"I should say there's about a half a dozen of us on Craven Vale that bother with our plots and are interested in keeping the place going. Not many of them have got them cultivated – most people are pocket handkerchief people, that's what I call it – then they give up. We'd like to be able to start an association like some of the others have done. You can get grants for things.
"We'd like a shop, as they're not using the rubbish bays anymore that would be an ideal place to put a shop. A public loo, even if we had to clean it out ourselves it would be wonderful. I mean it's alright for the boys, but us girls we have a problem, we need a loo. They [the City Council] say that wood chip [and] compost is available. I know a gentleman who can get tons of top soil and mushroom compost, but when you ring up and ask for it there's nowhere to tip it."