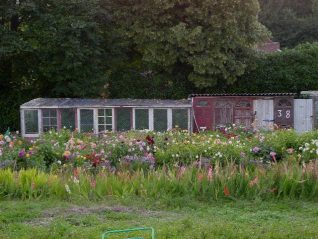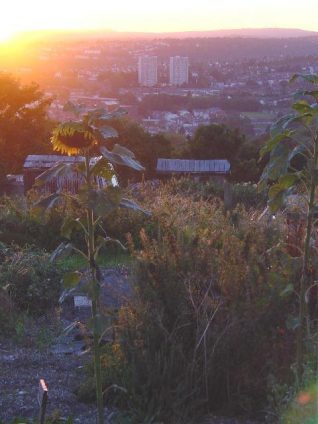 The Tenantry Down site is located on either side of Tenantry Down Road, which links the top ends of Bear Road and Elm Grove, close to Brighton racecourse. It is a hillside site. The site looks out over central Brighton and the seafront to the south. Westwards, are the Lewes Road cemeteries, and views of Round Hill and Hollingdean. The City Council lists 169 plots at this site.
Pam Bean on Tenantry Down's climate and conditions
"I think it's quite good really. We get a certain amount of rain, and it's not too cold. Our dahlias for instance we don't dig up in the winter, they normally survive. Occasionally we get a very cold snap. On the whole we don't get extremes of temperature usually. We can plant fairly early in the year, earlier than in some parts of the country. I usually start putting potatoes in at the end of February. It's very chalky here, but it varies all over Brighton. My son gardens in Horsdean and that's more clay. The Brighton Hove Organic Gardening group, we're starting an allotment and that's very heavy clay [at Weald Avenue]. On chalk, some things don't like chalk, like rhododendrons and azaleas, but the vegetables don't seem too fussy. A lot of people have had blight on the outdoor tomatoes, so we tend to grow those in the greenhouses if we've got one.
Pam on building up the allotment community
"Since they burnt our shed down, we don't have a focal point at weekends we don't have much of a community. I'm forever struggling to encourage people. People are all very nice, they are all encouraging. Some of the Allotment Associations still have their huts and their sheds and they sell things at weekends, but we've sort of failed on that possibly since the Garden Centre came, and we didn't do so much business. We used to have a garden show, but we haven't been able to keep that up. Bill and I try to keep the shop open on Saturdays, but I would really like other people to come in.
Phew, what a view
"When I take anybody round Tenantry Down the first thing they say is: "the view!". We've got a wonderful view, right out to Worthing, and they say, the Isle of Wight. But also the air, we've got a wonderful air and I think it's very good for us."