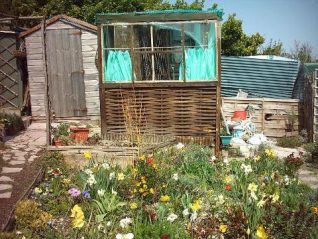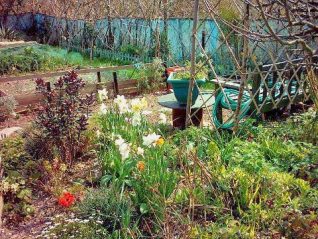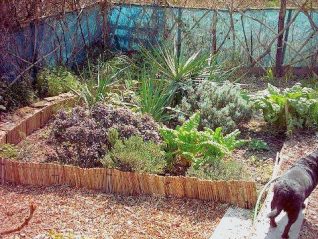 Valerie Judd now lives in Whitehawk, having also lived in Bevendean. Val has lived in Brighton for about thirty years. Val recently became a pensioner, and has had an allotment plot at her local site of Craven Vale for about three years.
Val's country retreat
"Country garden, [like] something you might find at the back of a country cottage somewhere out in the sticks, that's what I'm aiming for. It's a retreat for me. I've got an old Cox's apple tree which I'm trying to nurse back to health. I've got flower beds and a veggie garden. Then I've got a nature bit at the bottom, with a pond, and places for the wildlife; and I've got a grapevine which I'm hoping will do well next year and [a] home-built pergola for it to climb on. I've got my little summer house which I can open either end, whichever way the winds not blowing. I love it up here, if I didn't have my allotment I think I'd go mad.
An allotment as therapy
"[I have] this FMS – Fibromyalgia Syndrome. I'm in a lot of pain, but the pain killers take the edge off it, but this [my allotment] keeps me sane. It makes me want get up, and to get out. I used to live in a three-bedroomed house. I had a beautiful big back garden and quite a large front garden and I used to do all the gardening myself, I used to love it. Then I got divorced, and they stuck me in a one-bedroomed flat, no balcony, nothing. If you wanted a bit of green then you'd have to take something over to the green where there was dog poo lying around.
"Talking to my neighbour that lives on the same landing, she said: "get a small allotment". I thought I can't do an allotment in my health. Anyway, I signed the papers and I was shown a few. I picked this one, because the bad, cold winds come from that area and there's a beautiful high privet [hedge]. It's therapeutic for me. I was climbing the walls. I'm not a bingo person; I've never played bingo in my life. I'm not a person to get on a bus and go down the town round the shops. I'm not a seaside person; I'm a country person. So I decided to take on the allotment – take on the challenge.
"I am glad I did, because I feel calmer in myself. OK, it's hard work, but it keeps me going. If I didn't have it I'd seize up and as my doctor says I'd probably land up in a wheelchair. I've got family, friends, so if there's anything I can't do I just ask and they're there: like the sheds, and the digging: we all mucked in. I do enjoy coming up here in the evening once I've walked [my dogs]. I come up at dusk, because I've got a badger warren next door, and sometimes you can hear them, and it's just nice to sit here in the quiet. This is tranquil, it's just my little piece of heaven.
"If I lost this, I don't know what would happen to me, I really don't. I think a lot of people feel the same. Jeannie, she's up hers every day. Jo, she's got three of them, so she's got a job on and she's an old-age pensioner. She's up most days as well. It's like I've got a long walk from my back door to my back garden, but I don't mind as long as I can get here.
Running us down?
"Towards Race Hill, that was all allotments, but I notice none of those are ever rented out. Even the taps are gone now; the pipes are just closed off. I got a funny feeling that they're just not bothering with this site because there might be something in the pipeline, for housing or something. OK, I'm going to keep my garden and they can build my bungalow above it [laughs], because I'm not going anywhere. If they want me to move, they gotta find me another one and move it all for me, because otherwise… I'll sleep here! If they were going to keep this allotment site as allotments then why isn't upkeep done: fences, cutting back on the paths, security. Make's you wonder – what have the Council got in mind for this?
Perseverance out of adversity
"Well those that do bother is mostly the older ones. [I admire the] perseverance; the love of getting dirty hands; of working with the soil; seeing things grow; up all weathers just to make sure things are alright. There's a lovely man – he's got very bad knees – he comes all the way from Hove everyday just to make sure his allotment's right. [Another lady], she's got awful rheumatoid arthritis, but she's up every day. Like she said: "I can put up with a bit of pain, but I can't do without my garden". It's people like that; they're few and far between. It's the old one's that are the workers."