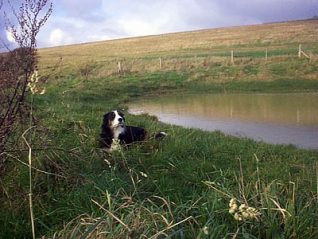 East Brighton contains some stunning downlands and one particular treasure is the lovely Simmonds Pond. Sat between Bevendean and Moulescoomb valleys, this man-made dew pond is a delight.
Myself and faithful pooch, Ham, regularly visit for a game of fetch and swim. I sit on the recent addition – a bench provided by Friends of Bevendean Down (thank you for your sterling work) and relax whilst Ham socialises with the many local dogs. Funny how we know the names of the dogs but rarely the owners…. nethertheless all who pass by are equally friendly.
My kids love the tadpole season too. A visit is incredibly nostalgic when snotty nosed schoolboys can be seen sloshing along the paths with buckets and jam jars full of spawn.
Simmonds Pond is also named after me (or so I like to imagine!!) or can anyone enlighten us as to the true roots? I would highly recommend a wander up onto our beautiful countryside whether you have a dog or not- so go on… get your wellies out!!