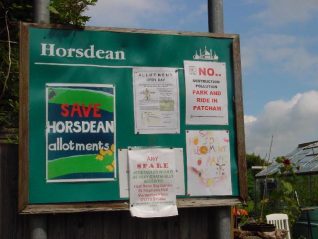 Photograph by Simon Tobitt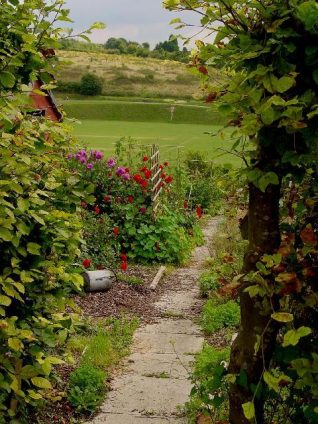 Photograph by Simon Tobitt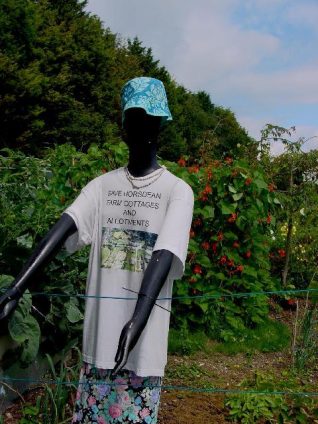 Photograph by Simon Tobitt
The Horsdean allotment site is located in Patcham, off Vale Avenue next door to Patcham Court Farm. The site is close to the traffic confluence of the A23 and A27. The City Council lists 35 plots at this site. In January 2005, an article appeared in the Argus stating that the Council were voting on whether to build a 900- to 1500-space park-and-ride facility on the site.
Jenn Price on the climate and conditions
"I think the climate is excellent here. We do get frosts up here – because we're on an east-facing slope – so we do get quite heavy frosts. Most of the time it's pretty mild and we can be in vests in November and February when the sun's out, if there's not too much breeze. We've only had this allotment for a few years [six]. It was well-tended before we had it. The natural soil is quite chalky and stony, but there's been so much muck added over the years that this is rather good now."
Jenn Price on the allotment community
"We don't know everybody. I think there's about thirty-two allotments or something like that. The people nearest us we know and then there are various characters on the other half – because you're sort of separated from the half above us – we know two or three characters there, who come down for chats and so on. So it's very friendly, very friendly indeed. We often meet and have chats in the car park particularly, and possibly exchange gifts. Chris has got a number of greenhouses and he grows indoor cucumbers, and he seems to have rather a lot of indoor cucumbers, we were rather lucky on that score because the other day we went home, but as we got to the car we realised there was this large, green cucumber sitting on the windscreen, which was obviously from him which was very nice."
Marigold Rogers on the threatened destruction of the Horsdean site
"Well there is a proposal to build a park-and-ride thing: great big car park with facilities for buses I suppose to come and take people into the town. There is a campaign against having the park-and-ride here, but then of course there's also a campaign against having the park-and-ride at Braypool, because the RSPCA are based there and they don't want it in that position either."
"I do understand that the traffic is a big problem in Brighton. I particularly don't want a park-and-ride built here, not just because of our allotments, but because there are farm cottages here that are very beautiful. I think they were built in 1909, and those are people's homes. There's probably five of them altogether. The cricket pitch I think would go, which is a terrible shame when it is well-used. Children play on it, it has cricket on Sundays, football in the winter. Then of course there is the allotments, and what can you say? It isn't just the place, it's that if these were destroyed, it's no good somebody saying to you: "we'll put you over there on that lump of downland". Would you really want to be looking out over a huge car park? You'd be sandwiched between the A27 and a car park. Also, there is the amount of work that has gone into the land itself. Over the years, you've improved the soil, and I can't see how that can ever be paid back to you."
"And the fact that I don't honestly know that it would make a great deal of difference to the traffic. I would like to have an honest piece of research done in those towns that do have park-and-rides that shows whether or not it honestly does make an actual difference to the traffic situation in the centre of the towns, because at the moment I don't really think that has been done."
Ruth Urbanowicz
"I'm really alarmed the Council have threatened to build a park-and-ride car park on Horsdean allotments. Those allotments have been there for ages. I think it's absolutely appalling that car use has become more important than people being able to have access to some land to grow their own food."
More information on the campaign against the park-and-ride at Horsdean is available at: www.timeistight.co.uk.