Jenn and Marigold's Allotment
Photograph by Simon Tobitt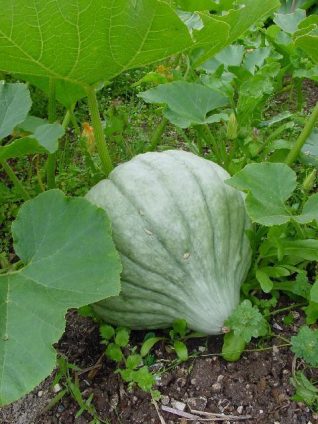 Photograph by Simon Tobitt
Jenn Price and Marigold Rogers are retired teachers. They live in the Round Hill area of Brighton. Jenn and Marigold have an allotment plot at the Horsdean site in Patcham.
Marigold describes their plot
"At the top end we've got a patio area with a shed. You have to have a shed on an allotment to keep all your bits in, store the onions. We've got a path that runs down the middle, and we've put slabs down because it helps with weed suppression at the edges. On the left, we've got a flower bed with gladioli and self-seeded marigolds, lavender, hollyhocks. Then below that we've got some courgettes, two sorts of beans – borlotti and French beans – and potatoes. Then below that are all the compost heaps, built by Jenn.
"Coming back up the other side is the rhubarb patch, which incidentally is the only thing that was on this allotment when we took it over – a rhubarb plant. Coming up that side there's a cold frame, in that we've got some outside cucumbers growing. Then there's a hedge of marigolds, there's sweet corn, there's runner beans, French beans – up maypoles sort of affairs – some huge pumpkins – I don't know what we're going to do with those in the end – [and] some squash called Blue Hubbard, which are very exciting and enormous. A dahlia bed of course, because you have to have dahlias. We grow the flowers for cutting, we've got a garden but there aren't enough flowers of any one sort to cut in the garden. Right at the top we have our delphinium beds."
What's it all about for Jenn?
"I love escaping here. I don't have a mobile phone and if I had one I wouldn't bring it. I'm incommunicado which is really nice. I can do things here which I wouldn't dream of doing at home, like building really rather hideous looking compost enclosures. If I work in wood at home, I use proper joints and screws and things, but here I can get a great big hammer and lots of large nails and go for it, and I really enjoy that. And there are often things to do like that, building edging to paths, or new ways of holding up delphiniums. It's quite good; I can be quite inventive, get down to basics with it."
And Marigold?
"I love coming, because I grew up in this area, and I often sit here and have a drink of water and look over the other side of the cricket pitch and see the houses in the road where I spent a lot of my young life. I lived in lots of different places in Patcham and we played on the cricket pitch, so for me it's a bit of nostalgia."
Marigold, on Horsdean's diversity
"I really love the top half of our allotment which is Lizzie and Gran's. They've made it into a little orchard, and it's got grass and trees and I really, really love that. And one year Lizzie had loads and loads of wonderful poppies – all different colours and sorts. It was an absolute joy, I really loved it. And the other thing of Lizzie and Gran's [that] I admire is their sweet pea run. It's a bit like they're growing their runner beans, and she grows sweet peas all the way along, and they last and they're splendid. I can't really grow sweet peas, so I do admire that. Dallas, she's made a garden in the top half of her allotment, I think maybe because she doesn't have a garden where she lives and that makes me think back to Victorian times when allotments often started out as pleasure gardens, for people who didn't have a garden in industrial towns."
Jenn on future projects
"It's all looking pretty verdant and productive at the moment, but I have yet to conquer being able to grow peas without the pigeons eating them. So that would be one of my aims for the future to try and work out some way of protecting them from the pigeons and also optimise my care of them so that we get a decent crop. The future is maybe limited here. We may be turfed off this if they do the park-and-ride. Apparently, they will find us a new site, and equip it for us in some way – presumably just measure out the plots, hopefully plough it up, because I wouldn't like to have to start with grassland all over again. Allotments generally are just becoming more and more popular, so I don't think it's any excuse for getting rid of any. I think the allotment movement if you like is going from strength to strength."