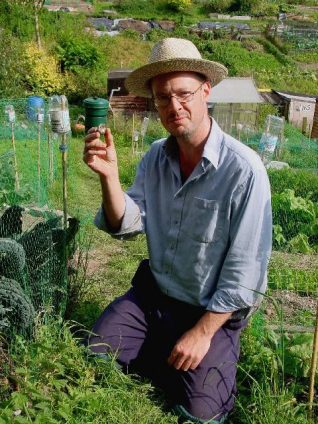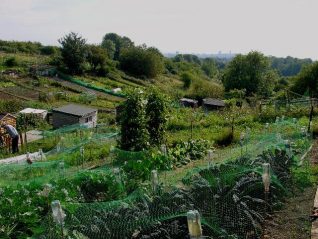 Andrew Webb lives with wife Josie and his family in the Fiveways area of Brighton. He works as a software engineer and computer programmer – so his allotment acts as something of a long and pleasant 'screen break' in the evenings and at weekends. Andrew is the Chairman of Roedale Allotments and Garden Society (RAGS), which covers the allotment sites of Roedale Valley and Lower Roedale. Andrew has a plot on each of the sites.
Andrew's plot
"Here at the Valley is where I grown most things: first early and second early potatoes; brassicas; legumes; beans, chard, endive lettuce and spinach; and over there roots – mainly carrots – I don't like swedes and turnips and that lot. I've got some herbs. This is where I spend most of my time. Obviously I rotate each 'type' every year. Here at the top of the valley is a lovely place to be [it has a fantastic view], and the plots are generally in good order. Over at Lower Roedale that's my low-maintenance plot. That's where I have my main crop potatoes which don't need so much watering, and my alliums – onions, garlic, and shallots – which don't need any watering at all, just let the rain do it.
A home from home
"I look at the allotment as like it's your garden. If you are a keen gardener, you've got a garden outside your back door, you want to go in it, a lot, and the allotment is like that for me. We do have a garden which is very small, like a lot of Brighton gardens. I want to grow veg; no room for it in our back garden, so I come up here, and this is my garden. What I really like the most about it, is it gives you another dimension to your life. It's somewhere you can go that you can call yours, which is not your home or office. I'm just hoping that allotments will go on as they are, providing mainly city dwellers with a chance to get outdoors, come somewhere else, be with others, and grow fruit and veg and herbs. The worry is a lot of allotment land goes for development, and each and every allotment lost is a terrible, terrible thing and must be fought as hard as possible.
How does an Allotment Association like RAGS work?
"For the Roedale Society we look after Roedale Valley and Lower Roedale. On the [committee of the] society there are two site reps – Melanie Matthews for Lower Roedale and Ron Fitchett for Roedale Valley. They represent that particular site to the Council [and] they are the Council's main contact. If you are a site rep you are automatically part of the Brighton & Hove allotment federation. The federation is the 'coming together' group of all the site reps on all the different sites. On the [committee of the] Roedale Society we look after the sites, be aware of and deal with any problems that arise, we liaise with the Council to ensure the smooth operation and correct running of the sites, report any problems – at the moment I'm always reporting leaking taps to them. We also run a store hut on both of the allotment sites, where gardeners can buy goods and seed that they need at very low prices.
A chat over the allotment fence
"All the allotmenteers are friendly and are excellent people. I think this is said of allotmenteers up and down the country: very friendly, and passionate and committed to their gardening, and keen to help newcomers. I've found that the social side is almost as important as coming up here and growing the veg. In the Thorpe Report on allotments to the Government in 1963 it was noted that allotments satisfy people's two main desires, which is talking and gardening. One of the reasons the social side if very good is that people are getting together not necessarily to be social, they're getting together to do gardening and the social side happens as a happy bi-product. You do learn a lot from others, and those that have been here for decades – the old boys – know what works and what doesn't work. A lot of things that I am growing now, it's because of their recommendations.
But hard graft as well…
"The difficult thing about allotments is that depending on what time of year you get your plot and what state it's in, you could have to put a lot of digging work in and a lot of preparation work for many months before you are going to see any kind of reward: a germinated seed, a grown plant. This can be discouraging for people. We do see people, coming and putting a lot of effort in and doing a lot of digging, and then sort of letting it slip. They come up the next time, and it's been a few weeks, and the weeds have grown up and "oh, oh look at all that digging we did, the weeds have grown up [despondently]". They maybe, not keep on top of it, go away again, and the weeds are going to come back more. This does cause people to start very enthusiastically but then give up.
Andrew offers some solutions…
"[There are] ways around this. Taking on half-plots, so you're not taking on a full ten-rod plot. The Council does make half plots available, so if people want half plots they should talk to the Allotments Officer. Another thing people can do is become a co-tenant with a friend or family member and help them work their plot. You can be registered by the Council as being a co-tenant of the plot. To work your plot and to work it well you have got to come up quite regularly and you've got to keep on top of it. The people who last and who do it well are the people who just really enjoy coming up to go to their allotment. In a way it doesn't matter to me whether I get any decent veg or not, the important thing is actually being here.