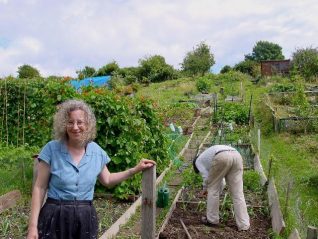 Sue Paskins in a local Green Party councillor and lives in central Brighton. She and her husband have an allotment plot at the Roedale Valley site.
A fulfilling exercise
"I am not a person who goes to a gym. I'd find that incredibly boring. Other than walking, this is my getting out in the open air, doing things. It's very pleasant. Believe it or not, we're here even in the winter for four hours on Saturday: work, lunch, work, cup of tea and piece of cake, another hour's work, and off we go home. It's good exercise, and it's a real sense of achievement when you get good food like this. Dog loves it here as well, don't you, dog?
You grow them – slugs and all
"Nothing tastes like carrots pulled out of the ground here. I can't buy carrots like that anywhere else. The blackberries are out of this world. It's a real nice feeling of achievement when you go home with your vegetables for the week: you grew them. You know exactly what's in them – including the slugs!
A protected future
"Brighton & Hove is actually quite protective of allotments. They are regarded as greenfield sites; the Council firmly states that there is enough brownfield land for development in Brighton. It's in the local plan that these areas are protected. And people say: "well you built on one [site] out down the Old Shoreham Road". Actually, they were empty sites, nobody wanted them because they were underneath electricity pylons. Most allotments have waiting lists. There's so many people wanting them. I think we will always have these allotments, because unless they're actually empty, the Council isn't going to release them for development. So hopefully in a hundred years we'll still be sitting here – well not me – but people will still be sitting here getting all their stuff out of the ground.
Bee delighted
"You have to give notice to the Allotment Association if you're going to keep bees; and you have to put a sign up on your plot to see if anyone is going to object. Apparently, he [a neighbouring plot holder] went into the allotment hut [the Allotment Association] and said he wanted to keep bees. And he was told: oh no, everyone would object, no one could stand the fact that he'd be having bees, and really he ought to go round and talk to everyone to try and persuade them. And he started coming round, saying to us that he wanted to keep bees on his plot, and we all said "oh good everything will get fertilised". Everyone was just delighted; he had nobody actually complain about him keeping bees.
…And about wall-to-wall carpet
"When we started looking people did say to us, because they knew we would be looking for an organic one [plot], "if they are nice and neat tidy allotments don't go there, they are chemical gardeners, and they will not like you". Because organic gardeners are untidy – which is true. If we're going to keep any sort of weed control we don't spray it, we put old carpet down. You come back here in November and it'll be wall-to-wall carpet. If there's not something growing on it, it's carpeted. Two things: one is, if you put your manure down underneath it doesn't leach away; and, the weeds don't grow. When you take it off in the spring it's not thick with weeds. OK, you've got a bit of bindweed, which is growing thin and weedy underneath, but it's easy enough to deal with."