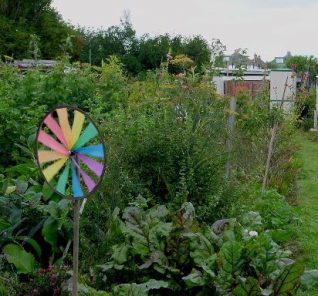 Ninka Willcock lives in central Brighton. She has lived in Brighton since the mid-1980s. Ninka has kept an allotment at the Weald Avenue site in Hove for about five years, and has had other allotments in Brighton prior to that.
Ninka describes her plot
"It's on the flat, which is a great relief having formerly had two allotments which were on slopes. It's only half a plot, but it's quite enough. Rectangular, it's got an area at its north end, with sheds and a lawned area for barbeques and visitors. There is a certain mixture of flowers and vegetables and herbs, although I have tried to keep the flowers at the lawned end – where you can see them – and at the other end around the edges. The idea is that I can have vegetables more in the middle. There are a few small fruit trees and shrubs."
Ninka's allotment holding history…
"I think I've had this one [Weald Avenue] about five years; prior to that I had one at Roedale [Valley]. That was convenient for quite a long period, because I worked near there, but it became incredibly inconvenient, because out of the blue millions of rabbits arrived and ate everything. It was just too depressing. Prior to that, I had an allotment at Tenantry Down, but I guess I felt that was all a bit bleak, and it was not in a direction I was going to work or to visit anybody."
What's done well in 2005?
"Anything that will seed itself I am happy with. I've got some wallflowers at the opposite end, which are now just a mass of seed pods, and I shall leave most of them. I am sure they will come up just as well, probably in different places, I've trodden them in, and with the birds, and the wind they'll be all over the place. Same with nasturtiums, they just seed themselves, they're hardy annual things. Much to my surprise there is one dahlia that comes up year in year out, and they're supposed to be very tender. That thing there [canna] that's supposed to [be] very tender; in about a month's time that should be bright orange. Garlic, potatoes, soft fruit, courgettes – they all seem to be happy with a certain amount of neglect. It's important for me living a long way away to grow certain plants to about six inches or so at home in the greenhouse, and then bring them along, rather than putting the seeds in. I can't always come regularly to water the seeds. If I know there's going to be some rain coming, then I will plant seeds here. There are certain things like beans, broad beans, courgettes, that it are much easier to grow at home; sunflowers another one. Mice, slugs and snails get them when they are young."
Ninka's allotment through the seasons
"Spring, well it's a mass of daffodils of various different sorts. I've got all the conventional colours and different styles, some incredibly posh ones from the Thompson & Morgan catalogue. I have difficulty to describe them: sort of frilly, and amazingly colourful. So that is what typifies early spring. Slightly later, I have the fried egg plants – Limnanthes douglasii – they spread across a large area of the plot. Apparently, they are very good for nourishing the soil if you just dig them in after, so there's a bonus there. It's all frenetic activity in spring as you can imagine. If I've forgotten to plant the garlic in the autumn, which is the best time, then it has to go in then. Spring seems to last such a short time, well all the seasons seem to last such a short time. It's a matter of catching those golden moments.
"The early summer is the best time, because that's the strawberry picking season. Certainly for the spring flowers, and the early summer soft fruits, I really enjoy taking them to friends – particularly, I've got an elderly friend who is unable to go out – she gets regular cut flowers, the first daffodils of spring, the first strawberries. This time of year [August] it all looks a bit sad and subdued to me, because I seem to be doing an awful lot of clearing of stuff that I have left to seed, but has perhaps been a bit over rampant. Within the next few weeks there will be the autumn raspberries and blackberries to pick, and potatoes to harvest. Winter, I don't see a lot of it. If I am coming this way I'll come and get a whole load of stuff like the land cress – which is like watercress but it lives on land – and rocket. There's lemon balm, and all kinds of things that are nice in winter salads. I've got some odd, kind of weird, rooty things that can be boiled up."
'Vertical' allotments and other developments
"I would hope that people would want them [allotments] not just for growing rows of vegetables, but maybe more for general leisure purposes. There wouldn't be any stigma against growing flowers. Just like an extension to their urban lifestyles. There's one round the corner, which has got children's swings and a little slide. There's a project, as part of the New England development, by Brighton station, to build some flats with green credentials. Each flat will apparently have something called a vertical allotment. Now I think this project is on the back burner at the moment, I haven't heard anything about it for a while. I would like to see what they look like. Also, for that site, the same company that is considering the vertical allotment, wants to take over an area of land locally, so that the residents can also have a conventional type of allotment area."