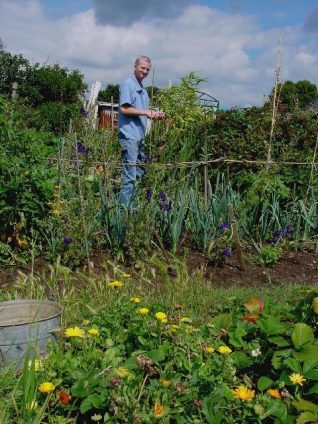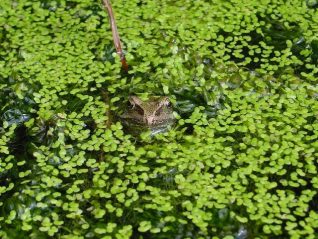 Tony Marshall works in central London and does a daily commute of about four hours each day. Tony has lived in Hove with his family for about eighteen years. His back garden backs on to the site where he has his allotment plot at Weald Avenue, Hove.
Tony's describes his plot
"There's a variety of fruit and vegetables, that's what I like about it. Generally, if you name it I think I've probably grown it: beans, peas, courgettes, radishes, a variety of herbs – rosemary, thyme – then I've got blackcurrants, raspberries, potatoes, cabbages, cauliflowers, an apple tree. I think there's not much I don't grow really. There's a little pond that's got some frogs in as well. People divide it up differently; mine's a path down the middle and then a few paths coming out to the side. Most of its cultivated; some people have a lot of it set over to grass.
"At the end there's a home made shed-come-greenhouse. I made this out of material I found on the dump over there, they used to have a dump which they've stopped now. Apart from one or two things, like the corrugated sheeting, it's all homemade. I built the 'extension' to it – it's like a house isn't it really [laughs] – I built the extension to it about three years ago. My son was then seventeen, and I bet him it would last until his twenty-first birthday, we'll wait and see. My allotment changes every year, I don't know if it gets better? An ongoing thing I enjoy, try out different crops, grow the things we need the most, and I try to keep things growing throughout the year. It's easy to grow stuff in the summer because it shoots up, what you need is some you can pick and grow throughout the whole year. It largely keeps us in vegetables at home, and some fruit, which is good really: it saves money, but it's more the taste and enjoying it really."
An oasis beyond the garden gate
"After working all day – I get home at seven – in the summer I can come down here and spend an hour and do a bit of watering. I find as soon as I come out the back gate at the bottom of my back garden it's like a release – from the tensions, the stress of daily life – because it's all calm and green. You immediately feel a lot better. Weekends, I come down most Saturdays and most Sundays, particularly in spring, summer and autumn, not so much in winter. This time of year [August] I think you've got to spend a couple of hours at the weekend at least: digging, collecting crops. Spring there's a lot of planting going on, and autumn getting ready for the next year."
Change with time
"I think [I've had my allotment for] eleven, twelve years maybe. Some people come and go. It tends to be older people, not totally. Some people who you get to know suddenly don't come down here anymore and you hear they've died or they're not well. The gentleman next door to me, I think he's eighty-four and last autumn he [was unwell] and he doesn't come down anymore. I suppose, perhaps there's more families come down nowadays with young children, and people sharing allotments a bit more."
Plot individuality
"I like to walk round from time to time and just look at them [other's allotments]. It's interesting how they develop them. It must say something about people's personality. Some people cut like little triangles and it's all grass around; others have different types of path; different types of buildings; some people like nearly all herbs and winding paths, big hedges and so on; there's some all taken over by flowers; one's nearly an orchard. People don't tend to spend a lot of money on buildings. They construct their own, and it's interesting to see how these develop – old, rickety sheds."
Tightening up on weedy gardeners
"I think I might like to see them tighten up a bit on those who don't look after them, because there a number of allotments around where you see they just let them go to grass. At the same time I know at least one person who is on the waiting list trying to get one. I think even if people pay their subscription for the year, if they are not looking after it I think they should take it off them really and give it somebody who's going to look after it."
City fauna
"I enjoy the frogspawn, seeing the frogs in the pond, that's nice. There was a bird's nest round here – a blackbird. I put up a [bird] box in the tree, but I don't think anything went in it. There are foxes around, not everybody likes foxes because they dig up your plot. There's quite a few in here I think, somebody said there is about half-a-dozen or so. One was under someone's shed over there actually, which is quite well used, so I don't think they mind people that much, they come out mainly at night anyway."