Royal Naval Reserve Battery, Hove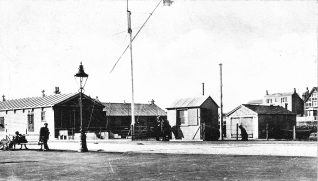 From the private collection of Tony Drury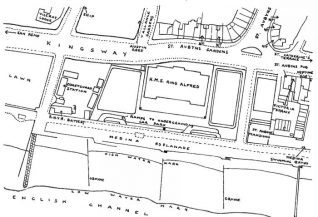 Published with permission from Hove Library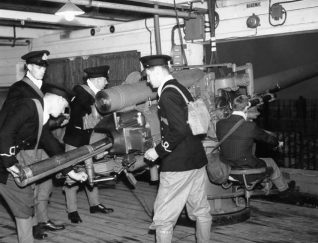 Established at the western end of Medina Esplanade, Hove in 1877 the Royal Naval Reserve Battery was to serve as a training depot for the Brighton sub-division of the V RNR Division which had its headquarters at Newhaven.
The Battery comprised of a wooden structure housing several naval artillery pieces which were aimed out into the English Channel, these were used to give gunnery instruction to RNR officers and ratings. The site also had a drill square, flag staff and a ships boat, to facilitate marching, signalling and boat work. The activities of the Royal Naval Reserve in the town are unclear, but the Battery is recorded as being in use by the RNR until 1904 and its facilities were shared by the Royal Naval Artillery Volunteers until their disbandment in 1892.
.From November 28th 1903 the Battery was shared by the newly formed Brighton and Hove Company of the Royal Naval Volunteer Reserve (RNVR); from April 26th 1904 this became No.s 1 and 2 companies of the new Sussex Division RNVR. On December 15th, 1904 the RNR Battery was transferred to the control of Sussex Division RNVR, the site was to become their new Headquarters replacing their temporary one at Glynde Place, near Lewes. Although it was now officially an R.N.V.R facility the Battery continued to be referred to as the RNR Battery right up until the day it was closed.
In October 1939, shortly after the outbreak of World War Two, the battery and other RNVR facilities were taken over by HMS King Alfred and were in use for the training of RNVR Officers until early 46.
On January 18th 1946 the Battery reverted to the control of the reformed Sussex Division RNVR and was in use as the Divisions headquarters until July 1968 when a new site at Maxwell's Wharf, Shoreham was opened.  In 2007 the Battery site is a car park next door to the King Alfred Leisure Centre.
The Battery also provided a home for the Hove (later the Hove & Adur) Sea Cadet unit which had formed in the town in 1942; they were given accommodation by the post war Sussex Division of the RNVR from 1946 and remained at the Battery until its closure in 1968.