The Royal Naval Artillery Volunteers: 1874-1892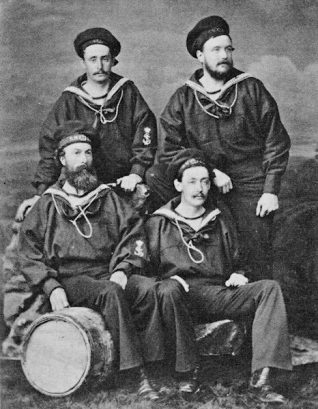 From a private collection
On August 5th 1873 Parliament passed an Act "to provide for the establishment of a Royal Naval Artillery Volunteer Force" – this was Britain's first truly volunteer naval reserve with no restrictions concerning residence or profession.  Until earlier in the same year many men in Brighton and Shoreham had been members of the recently abolished Royal Naval Coast Volunteers and they were eager to be a part of this new organisation. To this end, with 50 men expressing their support, Mr. Arthur H. Sutherland of 2 Western Street, Brighton, a prominent member of the Brighton Rowing Club, successfully petitioned for the formation of a Brighton branch of the new reserve in February 1874.
On June 29th No. 5 (Brighton) Battery of the 1st London Brigade of the Royal Naval Artillery Volunteers (RNAV) was opened; Mr. Sutherland was appointed as Sub-Lieutenant in charge.  The Battery headquarters was initially at the Coastguard Watch Room in the Kings Road Arches. The men of the new Brighton Battery RNAV made their first official public appearance on September 12th 1874 when they marched from the town hall to the Cricket ground. The Volunteers used the RNR Battery at Hove and Brighton Tow n Hall for training and drills. In 1884 the Battery moved into an independent headquarters at 131 – 133 Kings Road Arches; this was very close to the site of the old West Battery, which had been home to the earlier Sea Fencibles force.
While enthusiastically greeted by those who had campaigned for a truly volunteer force the RNAV was not taken as seriously by the Government and the Admiralty as many thought it should be. The volunteers were unpaid, they had to buy their own uniforms and pay for their own travel and meal expenses; despite this the RNAV attracted many willing volunteers. Oddly, while the Admiralty provided equipment, ammunition and Coast Guard supervision they never stated the intended purpose of the force in case of war.
The Brighton Corp of the RNAV was disbanded on Thursday 31st March, 1892, and the occasion was marked by sombre celebrations of its 'death'. On the evening of the 31st the corps last commanding officer, Lieutenant Fry, invited the volunteers, their family and friends to the RNR battery for drinks and entertainments as the naval ensign was lowered for the final time. The former RNA V headquarters in Kings Road Arches was not to remain empty for long however as the now disbanded volunteers came together to form the Naval Volunteers Cruising Club as a vehicle through which their enthusiasm for matters naval could be met.