The commissioning of H.M.S. Sussex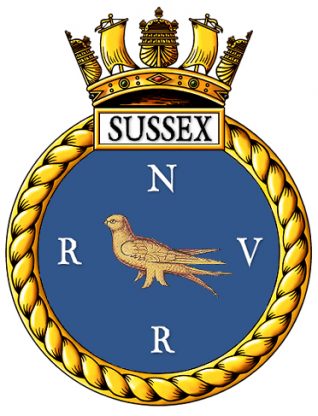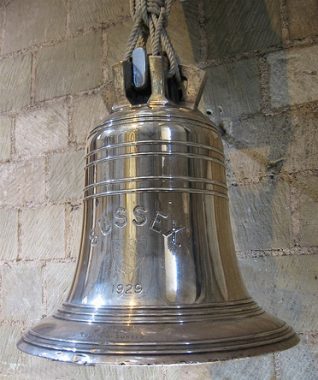 From a private collection
The Sussex Division of the RNVR (Royal Naval Volunteer Reserve) established its headquarters at Hove in November 1903; it was to remain operational for 91 years.  For the first 48 years of its existence the unit had no ships name, it was simply titled the 'Headquarters Sussex RNVR Division'. At noon on Saturday, 28th April 1951 this situation was changed when the Division was commissioned with the very apt ship's name 'H.M.S. Sussex'.
A New Ship's Name
Prior to this time the name was in use by a veteran World War Two Cruiser which was withdrawn from active service to be sold for scrap in 1950. The commissioning warrant was read at a ceremony held at the RNR Battery attended by the Mayor and Mayoress of Brighton, and Mr. William Teeling, M.P. for Brighton, and his wife; the Mayor inspected the guard of honour at the commencement of the ceremony. Also present was Commodore Earl Howe O.B.E., V.R.D., R.N.V.R., who had been the Commanding Officer of the Division from 1907 – 1939 and Commodore Fred May of the Sussex Motor Yacht Club.
An Old Ship's Bell
When the former Cruiser was scrapped, the Sussex Motor Yacht Club was successful in obtaining its Ship's Bell from the Admiralty and .Commodore May, on behalf of the Yacht Club, handed over the bell to Captain T. D. Manning, O.B.E., V.R.D., R.N.V.R., the Division's current commanding officer. On handing over the bell Commodore May said "It is no ordinary bell. It is a bell with a wonderful record. It was through the good offices of one of our members, Mr. W. T. Curtis – Wilson, that this bell was acquired from the Admiralty. Whenever this bell rings it should bring to your minds memories of a great ship."
A new home
The Divisions headquarters at the RNR Battery, Hove, closed, and transferred to a £140,000 new HQ at MaxwellWharf, Shoreham which was formally opened by Princess Alexandra on 12 July 1968. H.M.S. Sussex was granted the Freedom of the Borough of Hove in 1977 as part of the Queens Silver Jubilee celebrations, and the unit was to remain open until March 1994 when the Division was disbanded under defence cuts. The Ship's bell was presented to Chichester Cathedral where it is currently on display.
Sources:
The WAVE; Magazine of the R.N.V.R Officer's Association, summer 1951 edition.
Middleton, J. (2002, 2003) 'Encyclopaedia of Hove & Portslade' Vol.8, (I to L) & Vol.11, (Q to R), Brighton & Hove Libraries