HMS Vernon (R): Part 1 - The move to Brighton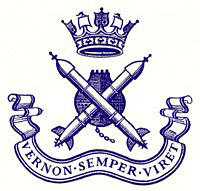 Image: From the private collection of Lt Cdr R J. Hoole RN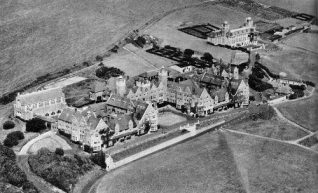 From the private collection of Lt Cdr R J. Hoole RN
In the spring of 1941 Roedean School for Girls, Brighton was requisitioned by the Admiralty to become home to H.M.S. Vernon, the Royal Navy's torpedo, mining and electrical training establishment; they arrived in May 1941 and were to stay until June 1945.
From August 1940 enemy bombing of Portsmouth Harbour forced H.M.S. Vernon, a busy shore based training establishment, to be dispersed to other sites around the country – Scotland, the West Country, and areas along the South Coast. Roedean School was chosen to become the new home of the Headquarters and Central Administration sections of HMS Vernon, together with the torpedo and mine warfare schools and associated training departments.
The advance party, under command of Lieutenant J. R. Carr, arrived at Roedean on April 7th 1941. At this time part of the school, number three house, was in use by the Army who had moved in shortly after the girls' school had evacuated to Keswick, in the Lake District, where teaching resumed from September 5th 1940. Initially a contingent of Argyll and Sutherland Highlanders arrived for training, followed by the Queen's Royal Regiment, then four Canadian regiments and the London Scottish, who were in residence when the Navy arrived. Number three House was the only part of the school properly 'Blacked out' against air raids at the time, so work began immediately to prepare the remaining buildings for occupation, contract labour being brought in to complete the work. As accommodation became ready for occupation Lieutenant Carr telephoned Portsmouth to send another batch of ratings to Roedean, often on a daily basis; all of this work and moving in being undertaken before a firm decision about who would actually occupy the site had officially been taken.
The Army was reluctant to vacate the site but a compromise was reached – the Navy would occupy the parts of the school not already in use by the Army – a situation which was not to last for long though, the Admiralty putting forward the best case for ownership in Whitehall. The Army was shortly to receive a message which read; "unless alternative accommodation has been arranged, number of tents required is to be indented for" – this was the first they knew of their immanent eviction! They eventually relocated to 'The Olde Place' in Rottingdean.
Roedean was officially commissioned as HMS Vernon (R) on May 3rd 1941 as the Headquarters of the Admiralty torpedo, mining & electrical training establishment under the command of Captain Brian Egerton, RN. The establishment provided intensive training courses in torpedoes, mines, depth charges and shipboard electrics.
Note: (R) denoted Vernon at 'Roedean', with Vernon (P) being the residual elements of the establishment at Gun Wharf, Portsmouth.