HMS Vernon (R): Part 3 - Life at Vernon (R)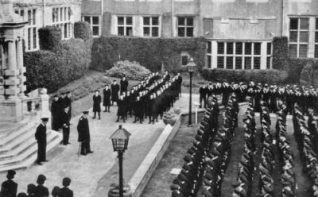 Donated by: Lt Cdr R J. Hoole RN
Many ratings arriving at Roedean School thought the place looked gothic and creepy, as they looked up at the imposing buildings from the sentry post at the gates. Large proportions of these men were fresh out of basic training and were still wet behind the ears, while seasoned hands found Roedean a big change. The navy still used hammocks, both at sea and in many cases ashore, slung in large communal spaces, each man carried his own hammock from ship to ship as a part of his personal kit. The small rooms (three men to a room) and single 'cabins', all with bunks that formed the accommodation at Roedean were an unheard of luxury.
'Press if you need a mistress…'
It is rumoured that the first batch of trainees to be billeted at Roedean received a rude awakening after eagerly pressing a small button found above every student's bed – a small label carried the legend 'Press if you need a mistress for any reason during the night'. After the bell at the other end had been rung to near destruction and the members of the duty watch had been driven mad, the only person to arrive in response to their requests was an irate Chief Petty Officer promising unmentionable consequences for touching the button ever again! The buttons were subsequently disconnected!
Officers attending Vernon for courses could be billeted 'ashore' in Brighton, Rottingdean or other local villages, some married men brought their wives down to join them.
Besides the Naval personnel of HMS Vernon there was a large number of civilian staff, some were hired locally to fill domestic positions, others such as Draughtsmen moved from Portsmouth with the establishment and lodged in the local area. In Portsmouth many of these men had been a part of their local Home Guard unit and they were eagerly welcomed into the ranks of the Rottingdean Home Guard by their Commanding Officer Colonel Percy Filkins, M.C., a local farmer from Ovingdean. Ratings from Vernon helped out on Colonel Filkins' farm on occasion, including harvest time.
Sport
Games and organised sports helped Vernon (R) to keep a good liaison with the neighbouring naval establishments – HMS King Alfred at Hove and Lancing and HMS Marlborough at Eastbourne College, the Canadian and British Army units stationed around Brighton, and the National Fire Service School at Rottingdean. Hockey, cricket and tennis, saw the games fields at Roedean put to good use. Several officers took in part in hockey matches, with the Wrens fielding a team which gave them some good matches. It is not clear whether there was a Vernon (R) football team but he ratings did 'knock about a football' in their brief spells of spare time, usually between finishing meals and mustering to march off for instruction. Often some of the local girls who worked at Vernon joined in the kick about; 93 year old Miss Laurie Hollands of Ovingdean recalls how they would rush to finish their duties in time to join in with the lads. Roedean School also had a swimming pool which went some way to making up for the beach being off limits, being both wired and mined.
Daily routine
Instruction was given Monday to Friday and Saturday mornings, involving marching six or seven hundred men into the workshops in and around Brighton twice a day for instruction and back, some as far away as the Dreadnought Garage site in Hove. The daily routine was quite intensive, consisting of – breakfast, classes, lunch, classes, tea, classes, and dinner. There was little free time other than Saturday afternoon and Sunday. After Sunday Divisions some of the men would to go to Neville House, a family hotel at Black Rock (164 -165 Marine Parade Brighton) for tea, biscuits and a read of the Sunday papers. Other popular off duty pastimes in Brighton included ice skating, attending the Hippodrome theatre, and dances at the Dome or at the Regent Ballroom.
Important visitors
In March 1944 the establishment received a Royal visitor when Princess Marina, the Duchess of Kent came to inspect the Wrens and stayed to lunch at John Howard House.
Miss Tanner, the Headmistress of Roedean School, was a frequent visitor to HMS Vernon (R), for 'tours of inspection'; she took the threats of the RN returning to visit after the war – to see if the place was as clean as a girls' school as it was as a naval establishment – in her stride. She was a popular guest, so much so that on September 6th 1944 she was invited to take the salute at the weekly march past of divisions, Miss Tanner carried it off with great distinction.
Two marriages
There were two marriages held at Roedean during the naval occupation. Electrical Artificer Jack Parsons and Leading Torpedo Man Felix McClusky marrying Wrens that they had met while attending courses at Vernon (R); Felix married Dorothy in 1942 while Jack married Violet in 1943.