Proprietary bathing establishments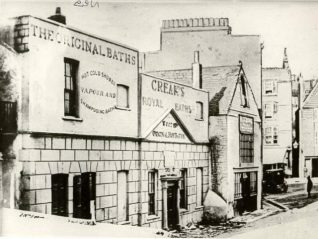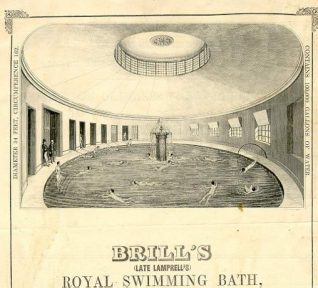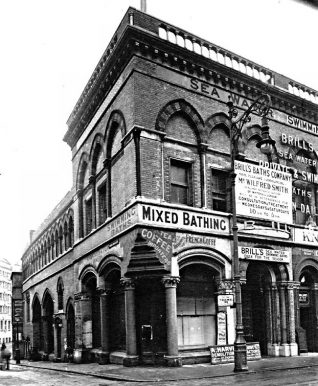 From the private collection of Bob Herrick
Please note that this text is an extract from a reference work written in 1990.  As a result, some of the content may not reflect recent research, changes and events.
Proprietary baths were popular in the late eighteenth century and throughout the nineteenth as a means of enjoying the benefits of sea-bathing but avoiding exposure both to the elements and prying eyes. The more famous establishments in the town are described below in chronological order.
e) AWSITER'S BATHS, Pool Valley: In 1768 Dr John Awsiter published a pamphlet entitled 'Thoughts on Brighthelmston concerning sea-bathing and drinking sea-water with some directions for their use' in which he advocated the use of individual indoor sea-water baths to protect infirm and fragile bathers from the elements. He also advocated the drinking of sea-water mixed with milk and cream of tartar for the cure of several afflictions including infertility.
Awsiter himself opened the first baths in the town, in a building on the south-western side of Pool Valley designed by Robert Golden. The foundation stone of the small, single-storey, classical building was laid on 4 October 1769, and there were six cold baths, a hot bath, a showering bath and a sweating bath. Sea-water was supplied from the 'Old Pump House' that stood on a groyne in front of the baths until Grand Junction Road was constructed in 1829. The baths eventually passed into the hands of a Mr Wood who added another storey and extended the building southwards, and then to a Mr Creak. They were demolished when Brill's Baths were extended in 1861 (see "Brill's Baths" below).
f) MAHOMED'S BATHS, King's Road: Opened in 1786 by 'Sake' (Sheikh) Dene Mahomed, they provided vapour or Turkish baths, the first in the country, and a 'shampooing' (massaging) service performed by an attendant through flannel sleeves in a tent-like cover. They became popular after several successful cures, especially of rheumatic problems, and the walls were hung with the discarded crutches of cured patients. Mahomed published several books and pamphlets on his methods and was eventually appointed 'Shampooing Surgeon' to King George IV, an appointment continued by William IV. Mahomed died in 1851 aged 102, and is buried just to the west of the northern entrance of St Nicholas's Church. Mahomed's Baths were taken by a Mr Knight in 1841 but were later acquired by Charles Brill. The three-storey building was demolished in 1870 to make way for Markwell's Hotel (later absorbed by the Queen's Hotel).
g) WILLIAMS'S ROYAL HOT AND COLD BATHS, Old Steine: Opened in 1803 at the southern end of the Steine, Williams's Baths became very popular and were later taken over by a Mr Bannister and then Mr Knight. The popularity did not last, however, and the buildings became dilapidated. They were demolished in 1856 to make way for the Lion Mansion Hotel.
h) ARTILLERY or BATTERY BATHS, Artillery Place, King's Road: Established in 1813 by Nathan Smith, these baths achieved widespread fame for the treatment of gout by the use of a vacuum pump which was passed over the afflicted area. In 1824 the baths were taken over by a Mr Hobden, and they were carried on after his death in 1861 by his widow. In 1864 they were rebuilt at the same time as the Grand Hotel was completed adjacently and a direct access was made between the two buildings. A magnificent swimming-bath was added in 1865, but the baths were demolished in 1908 when the hotel's ballroom was built on the site. They are now commemorated by Hobdens Health Hydro at the Grand.
j) BRILL'S BATHS, East Street: These were originally opened by a Mr Lamprell in 1823, at the south-eastern corner of East Street in a circular domed building 53 feet across nicknamed 'the bunion'; it projected into Grand Junction Road somewhat when that road opened in 1829. Inside was the first communal swimming-bath in the town, as opposed to baths for personal bathing.
In the 1840s Lamprell's nephew Charles Brill inherited the baths. The bunion was removed in 1858, and in 1861 he opened a new ladies-only sea-water bath in a handsome Gothic building on the west side of Pool Valley, on the site of Creak's, formerly Awsiter's, Baths. In 1869 Brill erected a new gentlemen's bath in a red-brick building between East Street and Pool Valley. Designed by Sir George Gilbert Scott at a cost of £90,000, it had a circular swimming-bath 65 feet in diameter, the largest in Europe at that time, holding about 80,000 gallons of sea-water which was brought in from Hove as Brighton's was considered polluted. The building also had cold water baths, vapour baths, medical douche baths, a barber, and reading and billiard rooms.
The popularity of bathing establishments in general declined in the early twentieth century and Brill's Baths were demolished in January 1929 for the erection of the Savoy Cinema (now the Cannon), but the name lives on in 'Brill's Lane' which runs between East Street and Grand Junction Road.
Any numerical cross-references in the text above refer to resources in the Sources and Bibliography section of the Encyclopaedia of Brighton by Tim Carder.

The following resource(s) is quoted as a general source for the information above: {2,3,10,14,15,112,115}