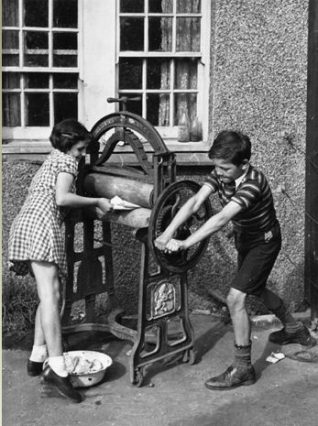 Royal Pavilion and Museums Brighton and Hove
Luxury of an Ascot
I remember the kitchen at home in Bennett Road in the 1940s. We did not have the luxury of a deep Belfast sink but a shallow brown sink with one cold water tap. We had a copper boiler in the corner of the kitchen built into a brick surround with a chimney, but as soon as we got the further luxury later on of an Ascot gas water heater sometime in the 1950s, my dad did away with the boiler which made an extra space.
Mangle in the back
We had an old blue mottled gas cooker which had a pipe next to it with a tap and tapered pipe for lighting the cooker. My dad sometimes unscrewed the gas lighter to use the raw flame for heating metal to red hot for something to do with his work for engraving tools, for annealing I think.The electric iron my mum always plugged into the light socket, how that worked is a wonder as the lighting circuit was only on 5 amp wire fuse, unless my dad had been fiddling with it. The mangle was outside in the garden, the first one I remember had wooden rollers and then later came along a mangle with rubber rollers (more luxury). 
Do you remember?
What was your childhood kitchen like? Maybe yours was more up-to-date than this one? Did you have a mangle? Please share your memories by posting below.