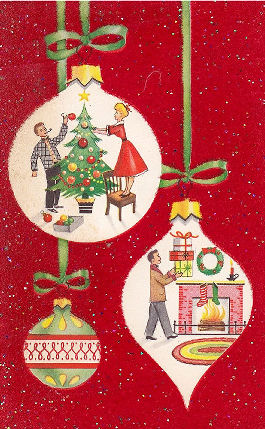 From the private collection of Jennifer Drury
These memories of a childhood Christmas were written a few years ago by Colin Chitty, a longtime contributor to the website. Sadly Colin is no longer with us, but this evocative reminiscence allows us a glimpse into a Christmas of over fifty years ago
The coal man cometh
Christmas time was always special on the Whitehawk estate. I firmly believed in Santa and so did all the kids around me. In my house, the ritual was always the same. The coalman called on either Christmas eve or the day before. We got our coal from Halls, and David Tharme's dad was a driver coalman with them for years. Our coal hole was in the kitchen and basically we shoved the kitchen table out of the way and David's dad would tip four bags of coal and two of coke into this dark unlit cupboard which housed some of the biggest spiders I had ever seen in my life. The kitchen was put back and Mum would start cooking.
Our best pyjamas
The night of the 24th was particularly frantic and we were given our tea at four o'clock and we had to have a bath by six. We were then dressed in our best pyjamas, because Santa was coming and sent to bed after a cup of hot milk by seven pm. The reason was that Santa had quite a few kids to get to around, so the more time we gave him, by going to bed early, the more kids around the world got presents. Good ploy Mum. In reality, it gave my Mum about six or seven hours to prepare the food for the next two days.
Can you share your childhood Christmas memories with us? Please post a comment below
Sixpences in the pudding
There was lamb, pork or beef for Christmas dinner, because the turkey craze did not exist. We had one of the joints for dinner, around one o'clock, then we had a second type of meat for tea, around six o'clock. Then we had jelly and blancmange with tinned fruit or home made Christmas pudding which was riddled with sixpences or threepenny joeys. These coins came straight out of the purse and pocket, and were lobbed in the mixture.
The disappearing tanners
Can you imagine the food handling and health and safety issues that would arise today. I got two and six out of a pudding once, and there was about ten bob in it. One year my Mum was panicking because she definitely put seven shillings and sixpence in the pud but we only found six bob when we ate it. She was convinced that one of us had swallowed one shilling and sixpence in tanners, but we never saw it again.
See Part 1 here