Jellies and blancmanges in the bath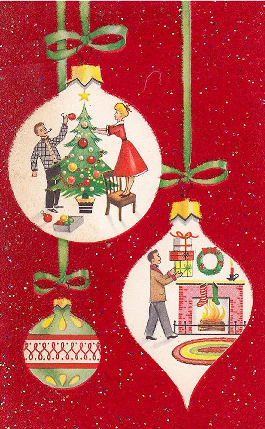 From the private collection of Jennifer Drury
These memories of a childhood Christmas were written a few years ago by Colin Chitty, a longtime contributor to the website. Sadly Colin is no longer with us, but this evocative reminiscence allows us a glimpse into a Christmas of over fifty years ago.
The Christmas ritual
Part of the ritual of Christmas was us kids having a bath on Christmas eve. The real reason was because the bathroom was going to be the fridge for the few days. We were lucky, we had a fridge with a door handle to open it, but all the jellies, blancmanges, trifles and custard went into the bath. Our bathroom was downstairs next to the front door, so in winter, by leaving the bathroom window open, the north wind would blow down the valley and set a jelly in twenty minutes, flat.
The Queen's speech
We all piled out of bed, usually around four-five am to attack the pillowcases of presents that good ole Santa had left the night before, while Mum cooked us all eggs and bacon with fried bread for breakfast. We listened to the Queen's speech at three, either on the radio, or watched it on the telly after we rented one from Rediffusion in 1960. Mum would fall asleep before HRH had finished talking, with her arms folded as she stretched out in her armchair, with the open fire slowly toasting her left leg.
My belief in Santa
We played with the toys that Santa had left, knowing that when Mum woke up she would be back out in the kitchen, preparing for round two. My faith in Santa was cruelly shattered when I was ten because I had opened an upstairs window and saw my Mum out in the back garden, taking in the mince pie I had put out for Santa, and chucking the saucers of milk for all the reindeer up the garden. My immediate fear was that she knew that Santa was not coming because I had been a particularly bad boy but after I cried myself quietly to sleep, I awoke to find a pillow case full of presents at the bottom of the bed. I never told my Mum that I had seen her.
See Part 1 here
See Part 3 here