Little Green Pig: Creative writing and mentoring for young people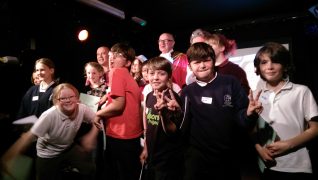 Disadvantaged Communities
Little Green Pig is a registered charity which offers free, inclusive and high quality creative writing opportunities and mentoring to children and young people aged 7 to 18 in Brighton and Hove. We serve all young people in the city, but we focus our resources on young people most in need and closest to our base in London Road. We work in partnership with teachers and families to offer free writing workshops to local schools whose pupils experience social or educational disadvantage.
Ministry of Stories
As a 'candidate' of London's Ministry of Stories, we are working towards opening a fantastic secret shop and writing centre in the London Road area in 2015.  In the meantime, we work across the city – look out for us in schools, libraries, galleries, youth clubs and even scribbling on buses (on paper of course!).
Our vision
We believe in the power of the imagination and that fantastic and transformative things happen when you pick up a pen and share your story. We offer children and young people in Brighton & Hove space and time to get creative with words. Our centre is a safe space to be playful, take risks and to write what you want. We believe in the right to write, and that this vital form of self-expression builds confidence, communication and social skills. Creativity and fun are at the heart of what we do.
Want to know more?
You can learn more about us and our work by visiting our website here.