Stanmer Community Garden Group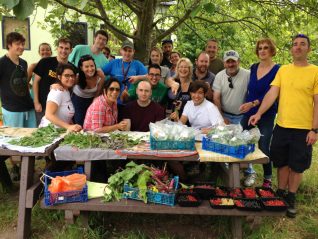 Reproduced with kind permission of Stanmer Community Garden Group
Mutually supportive group
Stanmer Community Garden Group brings volunteers and vulnerable adults together in a mutually supportive group, preparing beds, sowing, planting and learning about raising fruit and vegetables. Our work days are Tuesday and Friday, all year round, and on Thursdays in Spring and Summer. We run projects within the beautiful surrounds of South Downs, encouraging our volunteers to develop and use their ideas and skills in gardening, craft and art projects.
Events and projects
Of course we do not work all the time: we hold picnics and barbecues and take tours of our surrounds, visiting other projects and getting acquainted with the people on other sites within Stanmer Park, and their ideas. We sell some of our produce to help sustain ourselves and our volunteers can take home produce grown by them and the rest of the group, if there is enough to go round, after buyers have visited. Whilst we're on site, everyone can enjoy our beautiful space, as long as it is treated with respect.
You can find out more about us and contact us by visiting our website.