Gardening Club and Community Group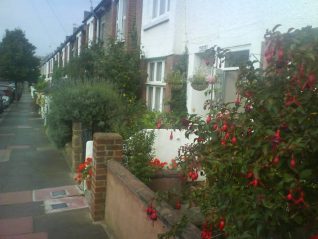 Photo courtesy of Kemp Town gardening club
The Kemp Town gardening club and community groups consists of 151 homes over the three roads of Bennett Road, Princes Terrace and Bristol Street.
These three roads make up Kemp Town's garden quarter and residents here take a great deal of pride in their front gardens having received first prize in Brighton in bloom a few years ago and a number of accolades since. Residents fundraise to have hanging baskets on the lamposts each year which greatly enhances the area and provides a talking to point to those who live in the area.
The area has a strong community feel and residents meet for tea and cake or a glass or three of wine every couple of months. Most recently, the group met to form a committee of residents who can help out those who are struggling to look after their own gardens.