Origins of the Emmaus Movement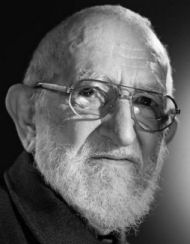 Wikimedia Commons: Studio Harcourt Paris
Paris 1949
The name Emmaus was adopted because this was the village in Palestine where two despairing disciples encountered the risen Christ and found hope again. Father Henri-Antoine Groues, who was better known as Abbé Pierre, a Catholic priest and MP founded the first Emmaus Community in Paris in 1949. He was passionately involved in trying to help the many hundreds of people who were living on the streets in the post war city.  
Georges' plight
One of these homeless people, a man named Georges was brought to Abbé Pierre. He had spent twenty years in prison and was unable to readjust to ordinary life. In the depths of despair and homeless, Georges had attempted suicide. Rather than just give him somewhere to sleep, Abbé Pierre asked Georges to help him in his mission to provide for the homeless.
Something to live for
Georges found hope and a purpose in life for the first time; he became the first Emmaus Companion. He lived with the Abbé and worked helping him build temporary homes for those in need. He later said; "Whatever else he might have given me – money, home, somewhere to work – I'd have still tried to kill myself again. What I was missing, and what he offered, was something to live for."
Emmaus in the UK
The Emmaus movement is composed of thousands of men and women who are working together to end homelessness. Their guiding principles are 'serve first those who suffer most' and 'fight against the causes of poverty'. The first UK Emmaus community in Cambridge opened in 1992. The UK now has the largest movement outside of France. There are now more than twenty communities spread across the UK, and more groups currently working to establish new communities. In Emmaus communities stretching from Glasgow to Dover there are now more than six hundred Companions who followed in Georges' footsteps.