Manors in 11th century Brighton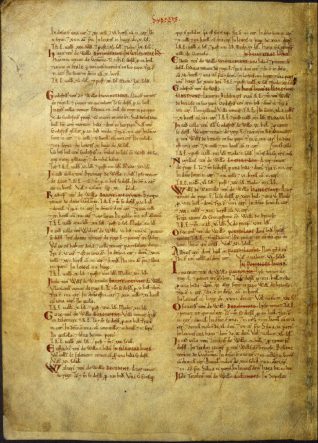 Click on the image for a full-sized view
Please note that this text is an extract from a reference work written in 1990.  As a result, some of the content may not reflect recent research, changes and events.
Eleventh-century Brighton was divided between three estates or 'manors' which held virtually all land and property between them. Once the possessions of Wolnuth, a Saxon nobleman, they passed to his son, the Earl Godwin, but two of the three eventually came into the hands of King Edward the Confessor. The King's successor, Harold II, was Godwin's son, but following the Norman Conquest in 1066 William I granted the manors of Brighton, and indeed the whole of the Rape of Lewes, to his son-in-law, William de Warrenne, whom he created Earl of Surrey. These estates then remained the possessions of the earls of Surrey, under Norman tenants, until 1347, since when they have descended through many different families.
The Domesday Book of 1086 gives a great deal of information about the manors of the time. One was held by 'Ralph' and paid a rent of 4,000 herrings per annum to de Warrenne. It became known as the manor of Brighton-Lewes, and in 1483 was divided into several parts or 'moieties'. By the late eighteenth century, when manorial land had started to be sold for development, the moieties had passed into the hands of the Scrase-Dickins and Kemp families. As late as 1862 though, the manor could still claim a tribute of six mackerel from each fishing trip. The second largest manor, first named in 1296, was Atlingworth, now commemorated by the street of that name off Marine Parade; it was acquired by solicitor William Attree in the late eighteenth century.
There were a number of other, smaller manors by the Middle Ages, including Erlyes (probably absorbed by the Kemp's holding of Brighton-Lewes), Harecourts (or Seyntclere), and Pekes. The manor of Raddingdean, a name often confused with Rottingdean, had evolved by the sixteenth century, and in the 1700s Rusper (or Old Shoreham) and Portslade manors also had property in Brighton. Raddingdean is commemorated by Radinden Manor Road, Hove, and also by the southern entrance pylon of Preston Park; it possessed land in the Stanford Avenue area from at least 1234, and may have had a manor house at the Prince of Wales's dairy where Argyle Road now stands, but it was probably absorbed by the manor of Preston. The manor of Brighton-Michelham was the possession of the Sackville family for several centuries until auctioned in July 1988; it was subsequently given away as a competition prize in the Evening Standard.
The manors of the surrounding parishes included:
Falmer: Bevendean, Falmer, Patchway.
Ovingdean: Ovingdean.
Patcham: Moulsecoomb, Patcham Court, Patcham Place, Withdean Court, Withdean Kayliffe.
Preston: Preston.
Rottingdean: Balsdean, Bazehill, Challoners, Rottingdean.
Stanmer: Stanmer.
Manors were once very important in the local community because they held virtually all land, buildings and property between them, thereby governing the lives of most people; they summoned private 'court-barons' to pass bye-laws and enforce customs, or 'court-leets' to try petty offenders; they claimed wrecker's rights from shipwrecks and received other payments and rentals such as those from the fishermen mentioned above; and they formed the basis of medieval administration. Although they lost importance with the division of the moieties, the local manors remained prominent until the nineteenth century in Brighton, and into the twentieth century in the rural parishes when many of the manorial estates were acquired by Brighton Corporation and much of their land was sold off for development. Most of the manorial titles still exist, and a number are now held by Brighton Borough Council.

Any numerical cross-references in the text above refer to resources in the Sources and Bibliography section of the Encyclopaedia of Brighton by Tim Carder.

The following resource(s) is quoted as a general source for the information above: {1,3a,10}