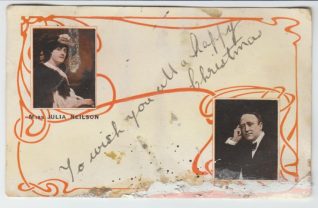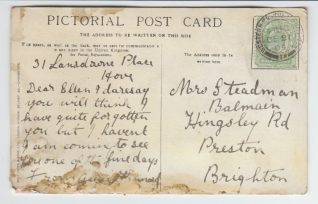 A single postcard was found behind a stud wall on the top floor of 57 Kingsley Road, Preston, Brighton. The card, featuring two actors of the time (one is Miss Julia Neilson), carries a Christmas greeting from Annie Hammond of 31 Landsdowne Place, Hove to Mrs Ellen Steadman at Balmain, Kingsley Road, Preston, Brighton.
The contributor, Hannah Marshall-Quinn, has established that the actor and actress depicted on the front of the postcard were touring the country in a production of 'Anthony and Cleopatra' in 1904.
4 Dec 1904
"Dear Ellen.  I daresay you will think I have quite forgotten you but I haven't. I am coming to see you one of these fine days.  From Annie Hammond"
Want to know more?
View this entry on the Letter in the Attic online catalogue.
Explore the full catalogue
Visit the home page of the Letter in the Attic project