Memoir of a Moulsecoomb widow, 1915-1941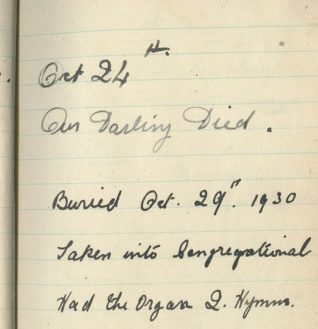 Florence Elphick was left a widow when her husband, a self-employed delivery man with a horse and cart, died in 1915.
When Florence died in 1987, her daughter, Ada Colwell, wrote a short memoir in her honour. This memoir covers the death of Florence's husband and her struggle to make ends meet during and after the First World War.
Everything went wrong
"I am going back to 1915, when our father died at the age of 39. He had a heart attack. My mother, age 37, was left a widow with six of us. The baby was aged 6 months and I was 11 years old. We were five girls and one boy. It all happened so quickly.
I used to help my father when I came home from school. He used to work for himself. We had a horse and cart, and his days were spent delivering butchery and greengrocery and carrying laundry.  On the 3rd June he said to me – I don't feel very well. I think we will turn back soon. Arriving home, we unloaded the van and put all the parcels of laundry into the front room.  My Mother came in and said – what is wrong?  And he said – I don't feel too good – I think I will have a long night.  Those were the last words he spoke.
Well, after the awful shock, a few days later Mother said – I will have to deliver the parcels myself.  I went with her, as I knew the way and the horse also knew.  Well, everything was delivered and we were on our way along the front, when a man called to us – Your wheel is nearly off, Mrs! – so pulling up in a side street, we set about to find someone to help put the wheel back on.  We arrived home, but everything went wrong.
The horse became ill, so mother had to get in touch with the Vet and he came for 10 weeks, but he was not any better, so Mother said – you had better put him down, as I have no money left to go on paying the bills.  He said – Not to worry, I know a place in the country where he can spend the rest of his days.  So the van and other things were sold for £10.I will never forget the day they came to take our horse away…."
Ada Colwell's memoir and a diary written by Florence Elphick was contributed to the Letter in the Attic project by Florence's granddaughter, Shirley Halls.
Want to know more?
View this entry on the Letter in the Attic online catalogue.
Explore the full catalogue
Visit the home page of the Letter in the Attic project