A postcard from the Boer War, 1900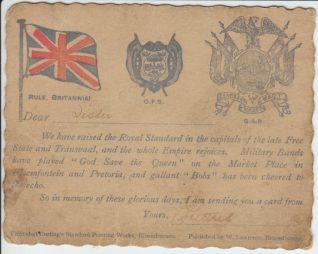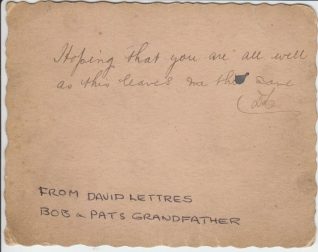 David Patrick Lettres was born in Bellamina, Northern Ireland, around 1880.  It is believed he came to England with the Irish Guards and met his wife who was from Brighton.  After serving in the Boer War, he returned to Brighton and became the publican of the Lord Nelson pub at 36 Trafalgar Street, Brighton. He died around 1943.
In 1900 David sent his sister a pre-printed postcard from South Africa celebrating the raising of the British flag in Bloemfontein and Pretoria, South Africa, during the Boer War.
Raising the Royal Standard
Dear "Sister"
We have raised the Royal Standard in the capitals of the late Free State and Transvaal, and the whole Empire rejoices. Military Bands have played "God Save the Queen" on the Market Place in Bloemfontein and Pretoria, and gallant "Bobs" has been cheered to the echo.
So in memory of these glorious days, I am sending you a card from
Yours "D. Lettres"
This postcard and related photos have been contributed to the Letter in the Attic project by David Lettres' grandson, Patrick Lettres.
Want to know more?
View this entry on the Letter in the Attic online catalogue.
Explore the full catalogue
Visit the home page of the Letter in the Attic project