A postcard from William Griffiths, 1915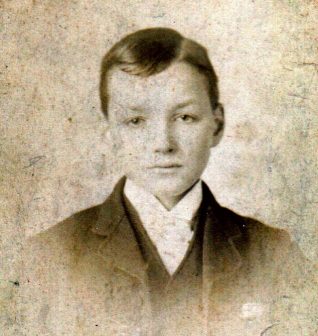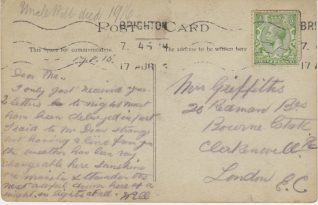 William Griffiths (born in 1877, probably in London) was an amputee convalescing in the Brighton Pavilion (military hospital) in 1915.  His family owned property in Brixton, London. He died in 1916, possibly from his injuries.
William sent a postcard whilst in hospital and this, together with a photograph of him aged about 17, form the collection which has been shared with the Letter in the Attic project by a descendant of William's, Ronda Gregory.
17th August 1915
"Dear Ma,
I only just received your 2 letters tonight must have been delayed in post. I said to Mr Dean strange not having a line from you. The weather has been very changeable here sunshine one minute & thunder the next. Awful down here of a night. No lights at all. Will"
Want to know more?
View this entry on the Letter in the Attic online catalogue.
Explore the full catalogue
Visit the home page of the Letter in the Attic project