Memoir of Arthur Sanders, 1914-1918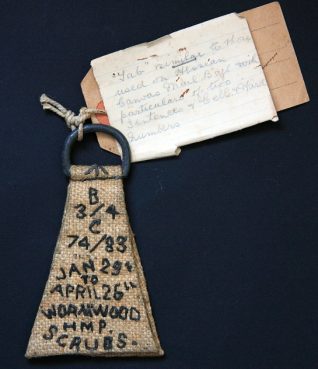 Donated to the Letter in the Attic project by Beryl Libin
Arthur Sanders (1885-1961) was a Conscientious Objector in both World Wars.  He was born in Surrey but by 1911 was living in Chester Terrace, Brighton. By the start of the Great War, he had moved to 36 Sandgate Road, Brighton. He worked as a landscape gardener.
In early 1917 Arthur was sent to Wormwood Scrubs prison in London as a Conscientious Objector to do hard labour for four months. He wrote a memoir about his experiences.
A summary of the news on toilet paper
"Another incident which happened when I occupied B3/19 for the 18 month sentence. I had taken into the prison a little stub of lead pencil concealed under my top lip and moustache. When all was quiet I wrote out a summary of the news on toilet paper which went the rounds."
After being conscripted into a non-combatant unit (and refusing to cooperate), Arthur Sanders served two further terms of imprisonment at Maidstone Prison, Kent. He left prison in early 1919.
Between the wars, Arthur joined the Peace Pledge Union and became Secretary of the Brighton branch of the National Federation of Old Age Pensioners during which time he campaigned for an increase in pensions.
Arthur Sanders continued to live at 36, Sandgate Road, Brighton and worked for the National Association of Old Age Pensioners until his death in 1961.
Arthur' memoir,  entitled 'My Experiences as a Conscientious Objector to War, 1914-1919', together with other papers and memorablia, has been donated to the Letter in the Attic project by Beryl Libin, his daughter.
Want to know more?
View this entry on the Letter in the Attic online catalogue.
Explore the full catalogue
Visit the home page of the Letter in the Attic project