Memoir of Francis Price, 1938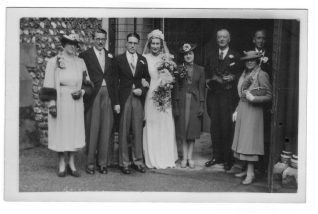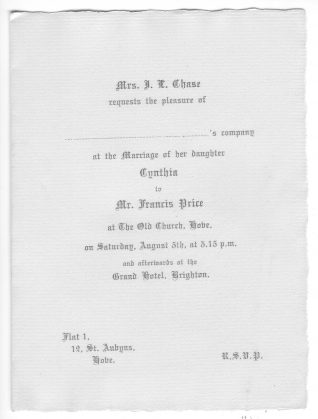 Contributed to the Letter in the Attic by Anne Morrison
In 1938 Francis Price moved to Brighton from Staffordshire and was working for Southdown Motor Services. There he met Cynthia Chase, who grew up in the Isle of Wight but moved to Hove in around 1936/7 and by 1938 was working in the General Manager's office of Southdown Motor Services.
Francis and Cynthia were married on 5th August 1939 at the Old Church (St Andrew's) in Hove with a reception at the Grand Hotel, Brighton.
In 1982 Francis wrote a memoir covering the years from birth until 1952.  Below, he describes the lodgings he found in Regency Square.
The sound of the sea was beautiful
"It was an old Regency building and had the elegance of that age. …  I had the very top attic-type room which overlooked the square and the sea, and the sound of the sea at night, as I lay in bed, was beautiful. …  My wages were £3.25 a week and the proprietor, together with his rather capable German wife, charged me £1.50 a week for full board.  Even then I can't see they made much out of me but I was a 'perm' (permanent) and with the winter being very lean for them, they welcomed something coming in all the year."
An extract from Francis' memoir, plus papers relating to the wedding, has been contributed to the Letter in the Attic project by Francis and Cynthia's daughter, Anne Morrison.
Want to know more?
View this entry on the Letter in the Attic online catalogue.
Explore the full catalogue
Visit the home page of the Letter in the Attic project